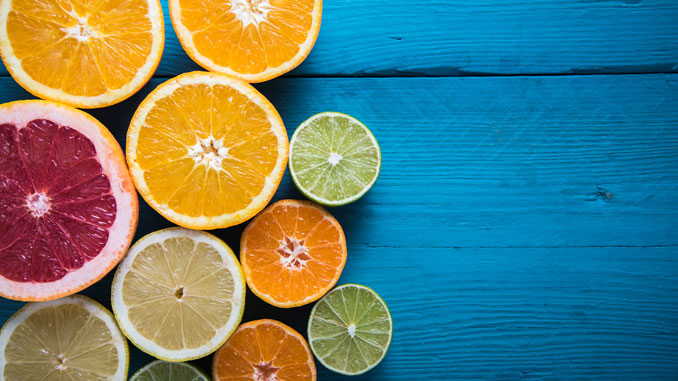 Brighten up Your Life and Cuisine With a Simple Squeeze
Original Recipes by the Fine Foodie Philanthropist
If there was ever a time to celebrate citrus, it's right now! When the New Year rolls around, citrus season is in full swing. The bright, sometimes bitter, but always juicy citrus fruits are ripe for the picking and in California we are blessed with the most diverse produce in the country, including blood oranges, kumquats, grapefruits, and more. Whatever you choose, you won't be disappointed—the possibilities with citrus are endless!
• Recipe 1
Marinated Manchego with Orange Marmalade and Thyme
Ingredients
10 to 12 Oz. Manchego Cheese, Cubed into ½ Pieces
½ C. Olive Oil
6 to 8 Thyme Sprigs
¼ C Orange Marmalade, Plus 1 TBSN. for Garnish
1 Garlic Bulb, Roasted
¼ TSPN. Orange Zest
1 Loaf Pugliese Loaf of Bread
Directions
Preheat oven to 400 degrees. Cut off the top of the garlic, place bulb onto foil and pour one tablespoon of olive oil over garlic. Fold up the foil into a pouch and cook the garlic for 45 minutes or until it is soft and caramelized. Remove rind from Manchego cheese and slice into ½ inch cubes. Place cubes into a medium size bowl. Meanwhile, in a small bowl mix roasted garlic with the olive oil and orange marmalade. Pour the mixture over the Manchego cheese. Garnish with fresh thyme and orange zest. Cover and marinate for up to 12 hours in the refrigerator. Remove one hour before serving guests. Add tablespoon of orange marmalade to garnish. Serve with Pugliese or any rustic loaf of bread.
• Recipe 2
Roasted Lemon Chicken Thighs
Ingredients
3 to 4 Chicken Thighs, Skin on Bone in
4 Lemons, 3 cut into thin slices, one cut in half
1 Head of Garlic
8 Thyme Sprigs
8 Rosemary Sprigs
¼ C. Olive Oil
24 oz. Bag of Baby Potatoes, Mixed
½ TSPN. Rosemary Sea Salt
¼ TSPN. Pepper, Freshly Ground
Directions
Preheat oven to 425 degrees. Pour olive oil into the bottom of a cast iron skillet. Season chicken thighs with sea salt and pepper. Brown chicken thighs, skin side down, for four minutes on medium-high heat. Add potatoes and garlic to the pan. Layer lemon slices, fresh thyme and rosemary on top of the chicken. Remove the cast iron skillet from the heat and place in your oven's middle rack. Cook for 30 to 35 minutes. Remove from the oven and using a spatula, flip chicken thighs so that the skin is side up. Add more fresh thyme and sprinkle the pan with leftover lemon halves.
• Recipe 3
Citrus and Avocado Spinach Salad
Ingredients

1 5 oz. Bag of Spinach
1 Grapefruit Segmented
3 Tangerines, Segmented
2 Avocados, Sliced
½ C. Candies Walnuts
2 TBSN. Orange Drop Olive Oil
2 TBSN. Balsamic Vinegar
Salt and Pepper to Taste
Directions
Cut the grapefruit and oranges into segments and peel off skin and any remaining pith. Set aside. Slice avocado. Empty spinach into a large bowl and add citrus, avocado and candied walnuts. Add freshly ground pepper, salt, orange flavored olive oil and balsamic vinegar. Toss and serve with a Lodi Sauvignon Blanc!
Local Angle
Craving Citrus? Head to West Oak Nosh for this delicious Citrus and Beet Salad at 10 W. Oak Street, Lodi, CA. 95240.