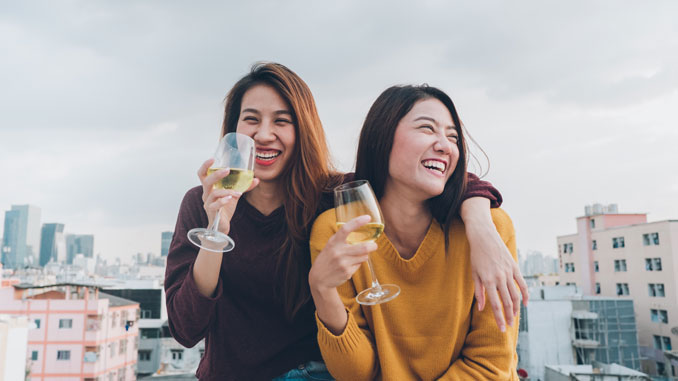 Let's face it—whether you slay at home all day or are a full-time working mama, you deserve a break from the chaos of family life every once in a while.
Grab your girlfriends for a night on the town! We've got suggestions so epic they just may rival those blockbuster hits we can't get enough of.
Wine a Little
Escape with your girls to Lodi wine country. Want to get a little toasty? Don't make one mom play designated driver. Instead call on the Sip Shuttle to make the most of your day away. Tours are offered twice a day—11 AM-4 PM and 11:30 AM-4:30 PM—and include stops at four wineries. Sip back and enjoy the ride.
Make it a "Staycation"
If you can get away for an entire night extend your wine tasting adventure into the next day with a luxurious stay at Wine & Roses. Get massages, facials, and other treatments at the on-site spa before diving into dinner at Towne House Restaurant.
Shop 'Til You Drop
Forget the mall—Stockmarket is the place to be. This curated outdoor marketplace is filled with goods from the areas best makers. Plus, with plenty of worthy food trucks and live, local music, it's easy to spend a whole day. Spread the word—the next marketplace is coming in December.
Enjoy a Sophisticated Evening
Grab dinner at a trendy place you'd never take your kids. May we suggest Midgley's Public House in Stockton or Mikasa Asian Bistro & Sushi Bar in Tracy? Sometimes having an uninterrupted dinner (and cocktails) while catching up with girlfriends is all you need. Step it up: Get event tickets for after dinner. On Nov. 4 the Moscow Ballet brings The Great Russian Nutcracker to the stage at Bob Hope Theatre in Stockton.
See an "R" Rated Movie
Having trouble remembering the last time you saw a movie that wasn't animated? Us too! Your mom's night out doesn't have to be crazy. Pick a movie with curse words and at least a PG-13 rating to feel a little rebellious for the night.
Keep Your Eye on Local Calendars
Cities throughout San Joaquin County host exclusive mom's or girl's night out events throughout the year. All you have to do is know where to look. Keep an eye on event calendars in Tracy, or the City of Lodi's for a themed wine stroll.