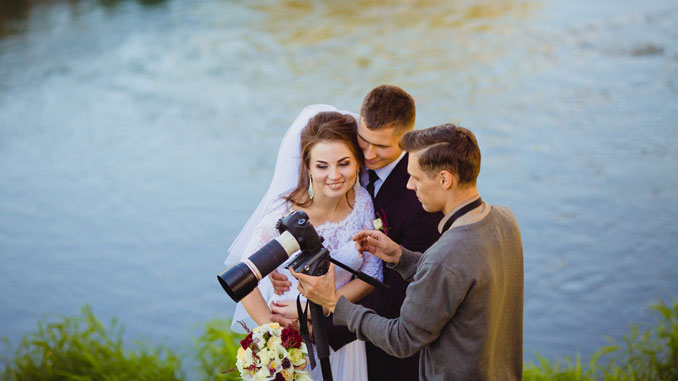 Weddings tend to be a lot about tradition, but that doesn't mean you can't bring your nuptials into the 21st century.
We've got a breakdown of some of the best ways to go digital when you say "I do." Read on to modernize your big day.
Send Invitations.
Fancy calligraphy scrawled across giant ivory envelopes expertly addressed to Mr. & Mrs. like something out of an 1800s love story may be everything you've ever dreamed of for announcing your big day. On the other hand, the ease (and cost efficiency) of skipping the big production over items that will land in a trashcan a few months from now may be appealing to you. Ditch the paper invites and opt for online invitations instead. This feature—check out GreenVelope.com—streamlines the process. Not only can you design your invites low-cost, brides can track RSVPs online.
Create a Wedding Website.
One of the newer wedding website trends is to create a Facebook event page for your big day. Whether you went digital on the invites or stuck to paper, it's easy to include a link on the invitation for guests. Here, compile information about the big day including accommodations, registry links, directions, and more. You can even introduce your wedding party with fun photos and write-ups. Don't forget to tag them! It's a one stop shop for all things wedding that guests will love, and who doesn't have Facebook these days?
Stream Your Wedding.
Have guests who can't make it to your wedding? Hire a videographer and stream it live online. Or, DIY. Check out free software such as ustream.tv and learn how to link to social media. Your far away friends will love seeing you say "I do" in real time. Then, throw snippets onto YouTube.
Share Wedding Photos.
Sure, you're going to post the best shots on Instagram, but what about all the other photos from your wedding day? Get guests in on the fun by using a photo sharing site such as Flickr or SmugMug. This way guests can upload their own photos and share with everyone who was there. Set up a private group of guests only and laugh over shots you don't want the rest of the world to see. Did you rent a photo booth? Ask the vendor how to share those photos digitally, too!