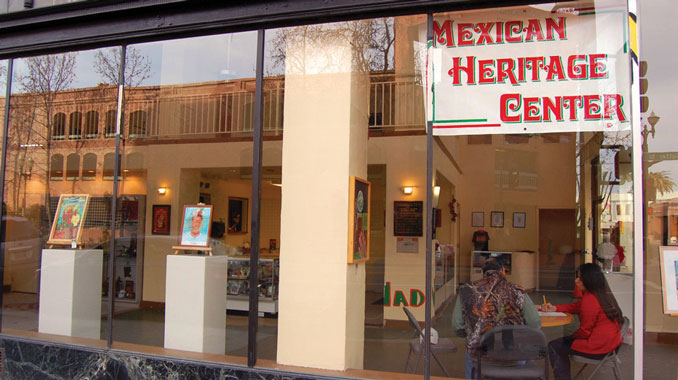 Mexican Heritage Center promotes fine art and education on latino culture
It's not often that one stumbles upon a place that serves up a healthy dose of fine art, culture, community, and a nice latte.
But that's exactly what the Mexican Heritage Center—and Terra Coffee, within—provides for locals.
Situated on the most colorful corner in downtown Stockton, the Mexican Heritage Center (MHC) is an art gallery that not only showcases the work of artists both new and renowned, but also offers locals an education on Mexican traditions and heritage.
"The center was started in the late 1990s by a group of local artists called Artistas del Valle," explains Gracie Madrid, President of the MHC. Over the years, the Center has continued to evolve under her leadership. "We've been in this building for almost 10 years. We love this place because of the windows and the foot traffic—it's perfect for an art gallery."
A retired educator and principal, Gracie has long been involved in her community. From being the very first Principal at Commodore Stockton Skills School to implementing several beneficial programs as the principal of Martin Luther King School for 18 years, Gracie knows just how essential it is to educate the community in order to preserve Latino heritage.
"During Christmas, we teach people how to make tamales because it's a dying art. Kids nowadays don't know how to make them," says Gracie.
Other holidays celebrated at the Center include Day of the Dead, for which the MHC holds workshops for kids and adults alike, teaching them to make masks as well as ofrendas for their loved ones who have passed.
"This year is going to be special because we're going to have a Symposium mixer on October 19," says Gracie. "We're inviting people from the city and local government because it's important that they're educated on the heritage of their community."
Aside from their workshops and celebrations, the MHC's beautiful, free art exhibits occur frequently and are open to the public. This month they feature the work of Gregory Lucero, a talented artist who, before now, has never exhibited his artwork.
"Those are the type of people that I like to work with," says Gracie, "because they're talented and deserve to show their work."
This month, the MHC will also hold their annual Adelita Awards, which three local women will have the honor of receiving. "'Resilient' would be the word for these women," explains Gracie. "Adelitas were the strong women who fought in the Mexican revolution, so the recipients are women who have faced challenges in their lives and, in spite of them, are successful."
If you haven't yet visited, the MHC is one of the few spots in downtown Stockton where locals can chill out at tables for two. Got a group project you're working on? Check out the second floor where you can engage in group meetings and discussions, an array of fine artwork within view. Whether you're looking for a dose of unfiltered culture, a creative cup of joe, or artistic inspiration, the Mexican Heritage Center is a bright spot of beauty amidst the downtown scene that every local deserves to see.
 Mexican Heritage Center
111 S. Sutter St., Stockton
(209) 969-9306
MexicanHeritageCenter.org