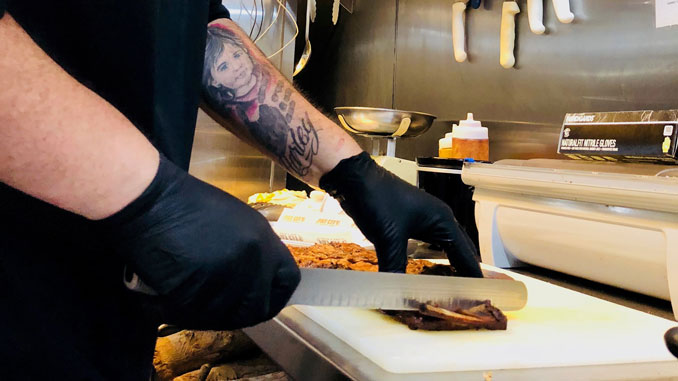 Don King's California Twist on a Southern Staple
Sometimes, the stars just align. That's a truth that Don King, owner and chef at Fat City Brew and Barbeque, has learned to trust by now. After a series of synchronicities and happy coincidences, Don went from burning steaks to a crisp in 2010 to being a full-blown chef in 2018, cooking up some of best barbeque in Northern California.
Starting out as co-owner of a barbeque supply store in Marengo Center, Don developed an interest in cooking barbeque thanks to his business partner and good friend, Noah. "A year before we opened the supply store, I was going through a really difficult time," remembers Don. "Noah came over to my house and said, 'Let me cook ribs for you.'"
Five hours later and still no ribs, Don was perplexed. What could possibly take this long to cook? Then, "I took one bite, and it changed everything," says Don. "That's why I'm here. I found a whole new side of me that I had no idea was there."
From there, things took off. The supply store started selling craft beer and became a regular haunt for locals looking for a place to chill out. After manning their business as a hobby for several years, Noah moved for a job opportunity. Don, however, stayed put. After happening upon the new space on Stockton's Miracle Mile, he decided to cook food as a sort of side-note to his craft beer and supply store.
Little did he know.
"I was just going to make food that I liked and cook barbeque the way I like to cook it—I call it 'California Style'—and it turned out to be great for us," Don says.
Today, Don prepares his wildly popular appetizer "Junk Nachos" for Good Day Sacramento, featuring any of Fat City's excellent meats and "all the fixings," including cheese, jalapenos, and chili beans, slathered in sauce.
Back at the restaurant, Don says the Rib Sandwich is the crowd favorite and is one of his favorite meals to make, with the Tri-Tip sandwich coming in as a close second.
"Sometimes I think it's unreal," says Don, referring to his restaurant's immediate success. "Twelve years ago I was a shitty cook, and my friends wouldn't eat my barbeque. That's what's so funny."
From melt-off-the-bone St. Louis rack ribs to the pulled pork slathered in sweet and tangy sauce, Don says the secret to good barbeque is simply attention to detail. "I've never been so picky about stuff. I make sure every time we cook the meat, it's cooked the exact same way so that there's always consistency."
Don's dedication isn't borne out of a desire to be successful, but rather, out of love for what he does. "I found a whole new passion in life at 40," says Don. "I tell people all the time that, at the end of the night, I can't wait to go home and go to sleep so I can come back here the next day."
So, if you haven't already, be sure to visit Don and his friendly staff at Fat City Brew and Barbeque. And keep an eye out for a possible Fat City 2.0.
 "Watch out, Lodi!" winks Don. 
 Get Your Grub On:
Fat City Brew & BBQ
1740 Pacific Ave., Stockton
(209) 323-4920
Fat-City-Brew-BBQ.business.site