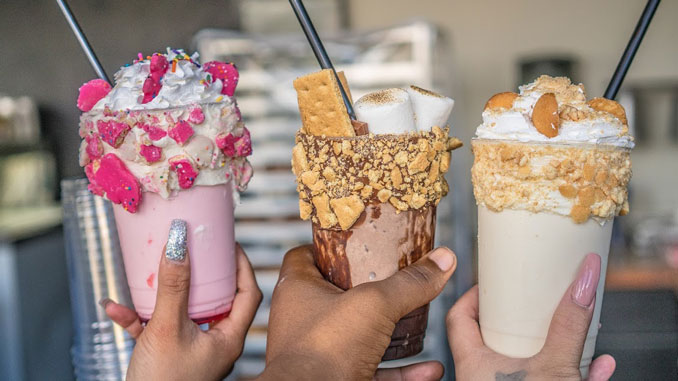 If you haven't yet been to House of Ice Cream in Stockton, you owe it to yourself to visit before summer ends!
Famous for their towering "Crazy Milkshakes", stacked high with ice cream scoops, sugar donuts, whip cream, ice cream bars, and more, this ice cream shop has transformed its humble downtown corner into a serious chill spot (ice cream pun intended).
If you're looking for a less, er, vertical milkshake, try one of their specialty shakes: For a chilly-spin on a classic dessert, try the Banana Pudding Shake frosted with crumbly, melt-in-your-mouth Nilla Wafers on top. Haven't done enough camping this summer? Get your fix of everyone's favorite campfire treat with the S'mores Shake!
With some truly unique flavors of ice cream to choose from—such as Horchata, Butter Brittle, Vietnamese Coffee, and Matcha Green Tea—it's safe to say that House of Ice Cream can whip you up any crazy shake your little heart desires, so head downtown and beat the heat with a unique sweet treat!
Shake It:
House of Ice Cream
947 N. El Dorado St., Stockton
(209) 271-7888
HouseOfIceCream.net