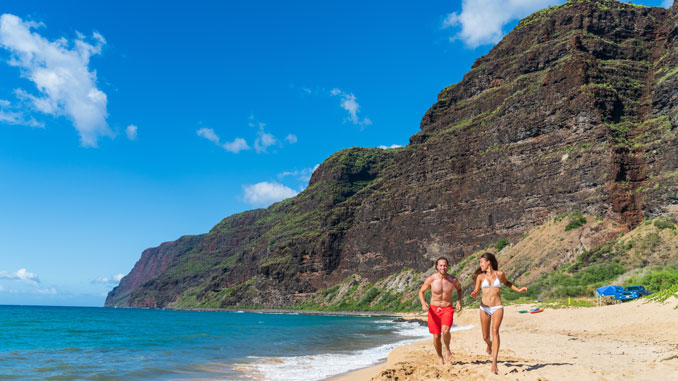 Kauai-they say it's for the newlywed and nearly dead, but trust us-that's a compliment!
If you're looking for a little R&R near the ocean without a lot of distractions, this is the place to plant your umbrella for a week of post-marital bliss. Break up slow days on the beach with luxurious spa treatments, romantic dinners, and, for the adrenaline junkies out there, some heart-pumping adventures. Check out our top picks for making your Kauai honeymoon the best it can be. Now let's dive in!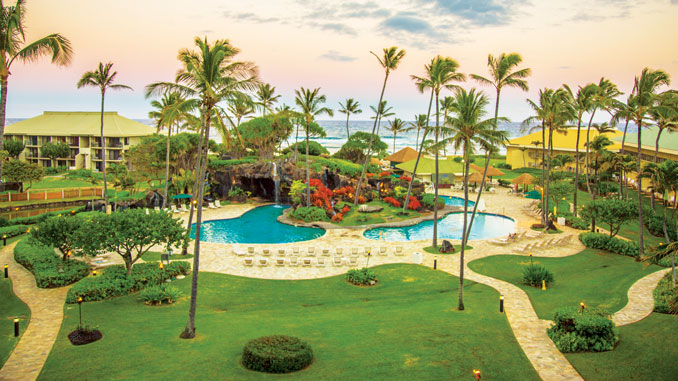 Headquarters
Located in Lihue, the Aqua Kauai Beach Resort offers everything honeymooners need for a romantic escape. A quick drive from the airport-conveniently offered by shuttle-the resort has all of the amenities couples crave including on-site dining, two pools, a poolside bar, a luxurious spa, and concierge services. All of this is offered beachside, which means you can end every evening with a long walk on the sand.
Cozy up in the hot tub at night after Kauai shuts down (usually before 10 PM), swim every day, and take fast trips down the waterslide into a sand-surrounded second pool. When it's time to relax, reserve a couple of lounge chairs and drink Mai Tais and Piña Coladas from the beach bar before retiring to the Hawaiian Rainforest Spa for hot stone couple's massages boasting products sourced from Kauai. (KauaiBeachResortHawaii.com)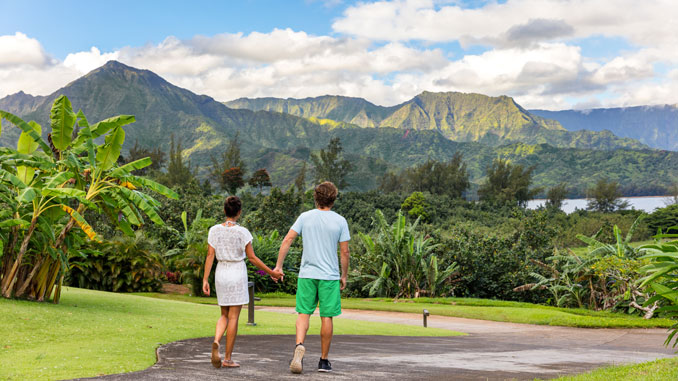 The Suite Life
A honeymoon is the time to splurge. Book an ocean-view suite at Kauai Beach Resort complete with a private outdoor patio and wet bar. If it's available, the presidential suite is the most beautiful room in the complex, boasting 1,253-square feet of luxury. The suite includes panoramic views of the resort, pool, and ocean visible from two private lanais.
The Setting
Kauai is known as the Garden Island, a lush green oasis reminiscent of Jurassic Park without the man-eating creatures (mostly because large chunks of the original movie were filmed here). Its setting is still rural, and Lihue is located between some of the most diverse geography the area has to offer. Jump from the rugged coastline of the Na Pali Coast where snorkeling and cruises abound or head to Poipu where some of the island's most magnificent beaches sit. Get lost as a couple in the mystic terrain, revel in romance as you watch hula dancers and attend luaus, and seek adventure in Kauai's surrounding nature.
Rent a car to get out and explore. Kauai is home to gorgeous scenery including the infamous Wailua Falls, the 173-foot natural wonder that was featured prominently in the opening credits of Fantasy Island, and Opaekaa Falls. You'll be able to leave the hiking boots behind for these two sites, which are easily accessible by car. If you want to, however, there is a cliff trail located to the far right of Wailua Falls that makes for a decent trek.
If you or your fiancé are movie buffs, continue exploring Kauai from a director's point of view. The blockbuster Pirates of the Caribbean shot scenes on the island that was also featured prominently in Elvis' Blue Hawaii. A tour agency in Lihue offers a Hawaii Movie Tour.
For the Adventurers
Because Kauai hasn't been over-developed the way some of Hawaii's other islands have, part of the island is only accessible by air-including the nicknamed Jurassic Falls that appeared in the franchise's first film. Book a private tour out of Lihue with Mauna Loa Helicopter Tours. Not only is taking to the sky sure to please adrenaline seekers, but it's also a romantic way to explore the island. The tour takes couples over Waimea Canyon, Mt. Waialeale, the Na Pali Coast, and offers views of several cascading waterfalls. For 60 minutes you'll experience high-altitude luxury with the opportunity to take the doors off for a better view-it's your call! (MaunaLoaHelicopterTours.com)
Most of Kauai's adventures take you out of the air and into the water. Spend a full day sightseeing on a Na Pali Coast snorkel tour where a boat takes couples out to the clearest waters surrounding the island to explore sea life up close. Prefer to stay dry? Visit a site like https://www.kaikanani.com and book on for a sunset adventure trail or coast along Poipu at sunset as you glimpse dolphins and whales from the deck. It doesn't get more romantic than that!
Land adventures abound in the way of hikes and waterfalls. From tropical rain forests to jagged cliffs, the rugged terrain of Kauai creates a varied list of hiking trails for beginners and experts. The Hanakapiai Trail located on the Na Pali coast is one of the most popular treks. At about four miles it's not too long and ends at Hanakapiai Falls, which is open for swimming. Instead of a beach hike, revel in the beauty of Kauai's forests with the Kukui Trail, a five-mile roundtrip journey through Waimea Canyon. For a more cultural experience follow the undeveloped coastline near Poipu along the Mahaulepu Heritage Trail that connects Shipwreck Beach to Keoneloa Bay.
Right outside of Lihue is Hanamaulu, where Kauai Backcountry Adventures has a lineup of enticing adventures. If hiking and driving to the waterfalls just aren't enough, couples can opt to zip over them instead on Backcountry's Waterfall Tour. Taking guests to the hidden Hali'i Falls, the exclusive tour books fast, but the views are something you won't want to miss. The tour winds through private plantation lands as adventurers take seven different lines to the valley floor. A short walk lands you at Hali'i Falls where you'll picnic and dip before heading back. The tour is five hours from start to finish. (KauaiBackcountry.com)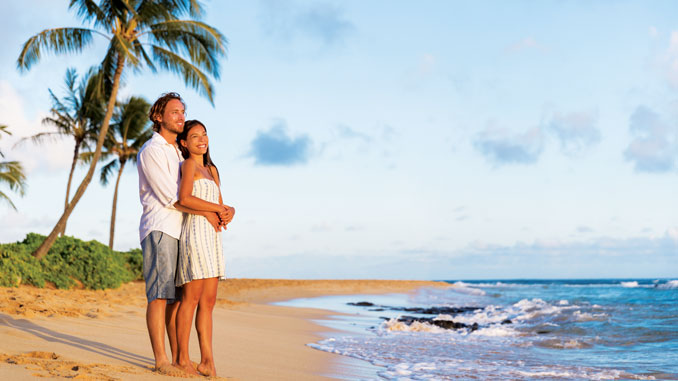 Romantic Highlights
Kauai oozes romance, so it's not hard to stumble into a dreamy moment, especially while honeymooning. However, it's also nice to plan a few excursions meant to enhance those loving feelings. A quick drive from Lihue (about 20 minutes) in Koloa, CJM Country Stables offers sunset horseback riding on the beach. In south Kauai, tour guides take riders to secluded beaches with picturesque coastal views and spectacular mountain scenery. On Mahaulepu Beach, there are plenty of sandy enclaves, tidal pools, and lava tubes to explore. Plus, unlike other islands, riders will find themselves trekking the grassy plains, high ridges, and green valleys that Kauai is famous for. (CJMStables.com)
Have you ever wanted to see the ocean at night? And we're not talking about sitting beachside after the sun has set. In Poipu (less than 30 minutes from your home base of Lihue) Moonlight Glass Bottom Kayak Tours offer guests a unique look at underwater sea life at night. Kayaks take off in the cover of darkness for a relaxing ride. Not only do the 12-foot kayaks feature nine-foot glass bottoms, but every vessel is outfitted with LED lights to make viewing easier. (MoonlightGlassBottomKayakTours.com)
There's no shortage of luaus on any Hawaiian Island, but on your most special vacation, you deserve the best. Locals and visitors alike rave about Smith's Luau. The traditional affair has been drawing crowds for more than 50 years with its family recipes, hula and Tahitian drum dances, Samoan fire knife dance, and mele-ancient Hawaiian songs and chants. (SmithsKauai.com)
You'll have to venture to the other side of the island for this gem. Located on Kauai's north shore, Limahuli Garden helps give Kauai its nickname. The botanical garden and nature preserve is set in a lush, tropical valley and features both native and non-native plant life along the Limahuli Stream. (NTBG.org/Gardens/Limahuli)
Sea Life
There's no shortage of snorkeling charters to choose from, and because sea turtles are prevalent on all parts of the island, the likelihood of getting up close and personal with them is pretty high (but please don't touch them). If you're looking for dolphins, head to the Kilauea Lighthouse and Wildlife Refuge or Kealia Beach. Kauai doesn't keep dolphins in captivity, so a visitor's only chance to see them is in the wild, but during high season it's not rare to spot a bottlenose dolphin (like Flipper) or spinner dolphin (named for their acrobatic tricks).
In addition to these larger mammals-and the Hawaiian Monk Seal that lounges ashore in Poipu-the waters are filled with colorful tropical species you just don't see everywhere else, including Hawaii's state fish, the Picasso Triggerfish.
The Best Beaches
You pretty much can't go wrong with a beach on Kauai, but there are some favorites that couples won't want to miss!
The best beach (in the country as voted by The Travel Channel): Poipu Beach
The best beach for snorkeling: Tunnels Beach (North Shore)
The best beach for beginners: Kiahuna Beach
The best private beach (that is open to the public): Mahaulepu Beach
Where to Eat
Lihue is home to another resort that many travelers favor. The Kauai Marriot in Lihue is just a hop, skip, and a jump from the Kauai Beach Resort. Head over to dine at Duke's Kauai, a festive beachside eatery that serves both island fare and American eats. 3610 Rice St., Lihue
In Kapaa, diners can enjoy romantic ocean views with the laidback air of Hawaii at Sam's Ocean View Restaurant Kapaa Kauai. Dine on seafood and cocktails in this open bistro. 4-1546 Kuhio Hwy., Kapaa
Also in Kapaa is JO2 Natural Cuisine, tucked in a small shopping village off the highway. In addition to Hawaiian fare, JO2 specializes in Asian cuisine using fresh seasonal ingredients to create unique masterpieces. 4-971 Kuhio Hwy., Kapaa
Arguably the best restaurant on the island is Porky's Kauai, an American-Hawaiian barbecue joint that serves up hot dogs, sausages, and pulled pork sandwiches in Waimea. 9620 Kaumualii Hwy., Waimea
Since you'll be staying on-site, stop by Naupaka Terrace at Aqua Kauai Beach Resort for both breakfast and dinner. Chef Alexander Dale offers inspired cuisine with ingredients sourced from local family-run farms and global techniques that nod to his Italian roots. 4331 Kauai Beach Dr., Lihue