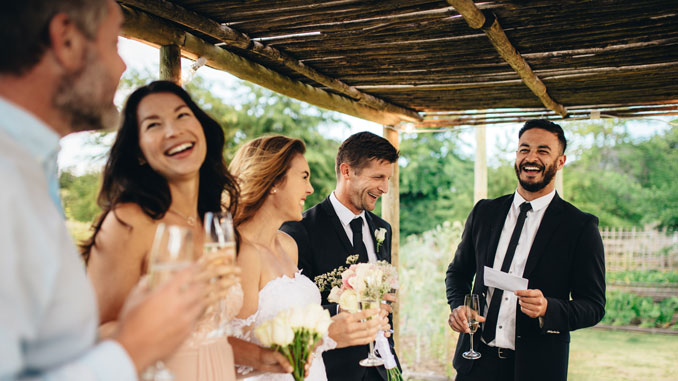 If you've been asked to toast the bride and groom on their big day, make sure your speech is a slam-dunk by including each of the following:
Introduce yourself
Even if you're one of the most important people in the star couples' life, not everyone knows who you are. Start with a brief introduction along with a little information about how you know both the bride and groom.
Make them laugh
Loosen up the crowd with a joke. It's usually safer to poke fun at whoever you're closest to. For example, a longtime best friend and groomsmen can get away with a few slights at the groom's expense but might want to stick with complimenting the bride.
Share memories
The speech should be personal. It's okay to tell a funny story about the bride or groom and yourself, especially if it somehow relates to their feelings on marriage or a perfect mate—but try to make the bulk of the speech about the couple of honor. Share sweet moments or funny anecdotes about their relationship that not every guest will know. This is your turn to pay their love tribute with a trip down memory lane.
Use props
A slideshow or at least a few photos can add flair. Find pictures that will make the crowd laugh and don't be afraid to ask others to pitch in. Parents, family members, and friends will likely have some share-worthy photos.
Toast to the future
At the end of the speech raise a glass to the new Mr. and Mrs., and ask the crowd to join you. Share wishes for the future and clink in their honor.
End with a thank you
Even if you aren't the evening's emcee, it is appropriate to thank guests for coming and sharing in the love of your two friends. Keep it brief and make sure to acknowledge those who put the most work into the wedding day.
Segue
If another speaker is up after you, it can help the evening flow better if you introduce them instead of playing hot potato with the microphone.
Estimated length: Take into account how many people will be speaking on behalf of the couple. Anywhere from three to 10 minutes is normal for a speech, but if six people plan to give toasts, 10 minutes may feel a tad long.