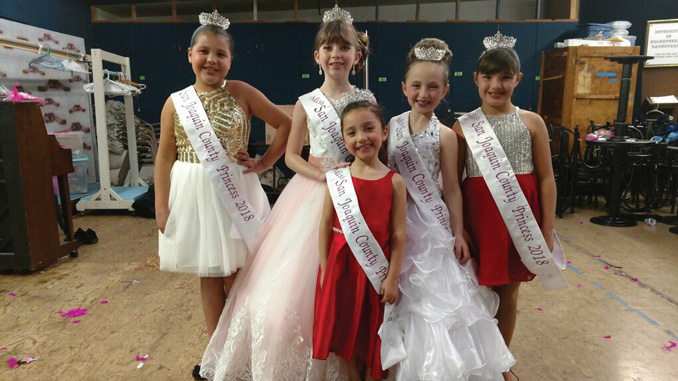 Just three years ago Jennifer Shields stood in the doorway of a dance studio as her six-year-old daughter cried, afraid to join the other students.
Now Jennifer watches her confident nine-year-old perform in front of live audiences at events like the Asparagus Festival, even encouraging other girls to join her on stage and offering to teach them her routine. Jennifer credits the transformation not to the dance classes themselves, but to her daughter's involvement in the San Joaquin County Princess and Prince Program.
                "It's a mentoring program and it helps with building confidence in young girls, helping them with poise, helping them with etiquette," Jennifer, who is currently the Princess and Prince Program Director, explains. "We also do a lot of community service events because we want to show them to learn how to step outside of themselves and into their community."
The San Joaquin County Princess and Prince Program is open to all children from ages four to 12 who live in San Joaquin County or surrounding counties. While organizers opened the program up to include boys this year, no princes have yet signed up.
The annual $150 program fee includes the one day Royals Camp and official Coronation ceremony that kicks off the year, as well as a tiara (or hat for princes), sash, and T-shirt. Participants also receive a front row seat for themselves and a chaperone at the Miss San Joaquin County Pageant and have a chance to perform alongside the other princesses during the pageant.
The program isn't all glitz and glam and temper tantrums like the image TLC's Toddlers in Tiaras brings to mind, Jennifer says. In fact, there's no competition involved in the Princess and Prince Program at all – that comes later if they decide to continue on to the Miss San Joaquin County Pageant after they turn 13. The Princess and Prince Program is more concerned with teaching the value of community service, initiative, setting goals, and looking ahead to the future.
And this is exactly why Jennifer thinks the program is so beneficial. "We're all about teaching these girls how to set your goals and then how to get to that and achieve something."
Over the course of the year the princesses have the chance to spend time with Miss San Joaquin County and San Joaquin County Outstanding Teen title holders. They introduce the princesses to the organization's four pillars – style, scholarship, service, and success – and help inspire them to follow their dreams and develop concrete steps to achieve their goals.
"The Miss America Organization is definitely all about female empowerment, higher learning, getting women out there in careers," Jennifer says. "A lot of our girls are out there for STEM jobs, which is nice to see women not just stepping into but leading in a lot of those areas."
The program also encourages friendship and teaches children how to build relationships beyond a classroom setting.
"It's hard because people's lives are so busy that kids are basically stuck with their friends at school… This gets them out and it's networking and making friends," Jennifer notes. "They develop these great friendships, which when it goes through to the competitive level they're not competing against each other, they're competing with each other."
Princesses are welcome to participate in the program until they are eligible to enter the Miss San Joaquin County Pageant. There is no obligation to continue on, but if they decide to take the next step in pageantry, the princesses have the benefit of already being familiar with the organization.
The next Royals Camp and Coronation will take place in February of 2019, but participants are welcome to join at any time throughout the year.
For More Information:
MissSanJoaquin.com
SanJoaquinPrincess@yahoo.com