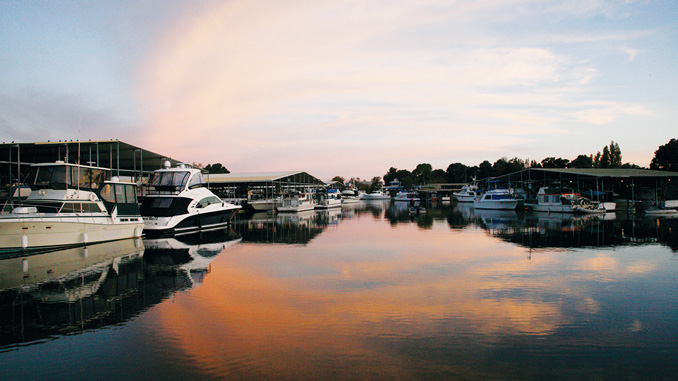 With over a dozen marinas in the Stockton area, it's not hard to find the perfect place to rest your captain's hat between adventures down the deep water channel. Here's our pick of the top four marinas where you can dock, dine, drink, and fully recharge before you float on.
Downtown Stockton Marina & Promenade
Want to dock your boat within walking distance of downtown Stockton's best restaurants? The Downtown Stockton Marina & Promenade is the place to be, offering over 60 permanent berths as well as guest docks. This marina's proximity to the heart of Stockton also offers easy access to Banner Island Ballpark, Bob Hope Theatre, and the Stockton Arena—so you can catch a Ports game or classic movie night after your Delta outing!
 445 W. Weber Ave., Stockton, (209) 462-4200
RiverPoint Landing Marina Resort
Take camping to the next level and explore the RiverPoint Landing Marina Resort. This marina features several amenities including overnight and weekly guest docks, heated restrooms, showers, laundry, gas pumps, RV camping, boat valet service, wifi, and horseshoe games, so be sure to mark this marina on your map this summer! 
4950 Buckley Cove Way, Stockton, (209) 951-4144, RiverPointLanding.com
Tiki Lagoon Resort & Marina
Looking to pop a tent and camp on the water? Look no further than Tiki Lagoon Resort & Marina, a Delta destination offering RV and tent camping, covered and uncovered guest berths, gas pumps, restrooms, showers, laundry facilities, picnic tables, a restaurant, and a store. With internet access and activities such as volleyball and horseshoes, this marina is the perfect pitstop on your Delta adventures.
12988 W. McDonald Rd., Stockton, (209) 941-8975, TikiLagoon.com
Village West Marina
Boasting guest docks, covered berths and open slips, gas pumps, restrooms, showers, and picnic facilities, Village West Marina is one of the premier locations to dock your boat this summer. Grub on a Giant Cheeseburger from Bob's at the Marina or sip on a cocktail while lounging on the deck of Garlic Brother's Restaurant. Featuring boat-detailing services and its own yacht club, Village West Marina is a Stockton-boater's paradise.
6649 Embarcadero Dr., Stockton, (209) 951-1551, VillageWestMarina.com