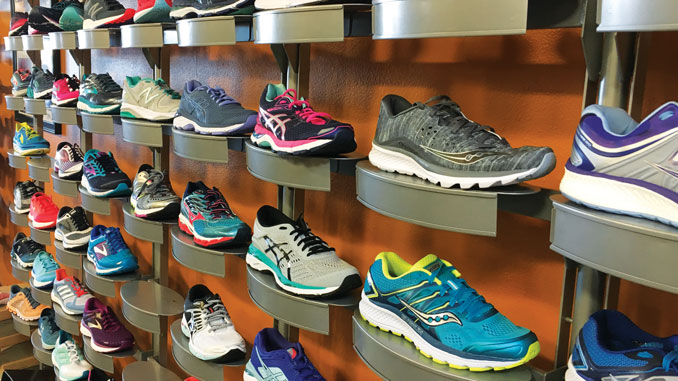 Whether you're a triathlete or just a weekend warrior, making sure your running shoes fit properly is top priority.
To find the best shoe for you, we asked Fleet Feet Stockton shop owner Tony Vice for guidance.
"Everyone's biomechanics are different," says Tony. "How the shoes fit will help you run better and stay injury-free."
Tony notes that the basic things any reputable fitness store should be looking for—to ensure your perfect fit—is the heel-to-toe length, the arch height, instep, and width of the foot. All of this can be done in seconds with Fleet Feet's FIT ID 3-D scan technology that determines what you'll need in a running shoe.
Your current fitness habits will also be significant. Are you just starting out or are you training for a race? What are your fitness goals? Do you currently have any injuries or physical limitations? They'll also look for wear and tear on your feet—blisters, callouses, even contusions—and check your gait for supination (foot strikes outward) or pronation (foot strikes inward).
"We have 110 different styles on the wall, but which ones are right for you?" Tony asks. "You want to run in something comfortable because if it's not, you won't enjoy running."
Tony continues, saying, a common mistake in choosing sneakers is getting whatever looks good without making sure it's the right fit. Too often, people end up getting a shoe that's too small, as feet tend to swell with exercise. Picking a major brand like Nike, Adidas, or Saucony isn't necessarily a guarantee they'll be perfect in every way. While those companies make top quality shoes, some smaller operations manufacture really great footwear, too.
"We've got brands like Hoka, Altra, and Karhu," he adds. "They're specialty and make a great product. And, we have a fit guarantee. If it just doesn't work for you, come back and we'll find something else."
Stop in for a fitting and then hit the road with the shop's weekly Tuesday Night Runs from 5:30-7 PM!
For More Information:
Fleet Feet Stockton
277 Lincoln Cntr., Stockton
(209) 952-1446
FleetFeetStockton.com