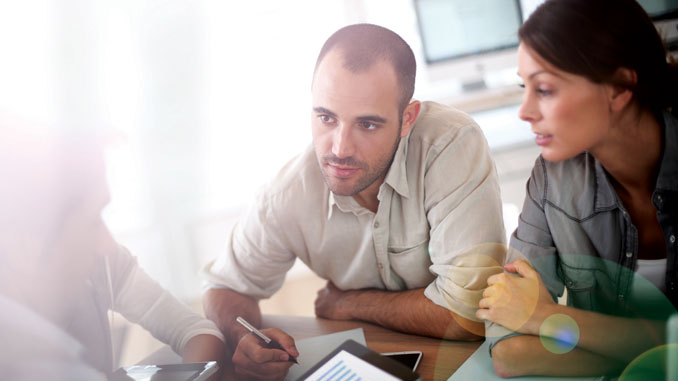 Find a Financial Advisor You Trust.
One size does not fit all especially in financial matters.  Communication and comfort are important elements in determining if the relationship will be productive. You should seek an advisor who will:
Treat you with respect, honesty, and dignity
Act as your advisor by putting your interests first
Strive to acquire a complete and accurate understanding of your goals, your tolerance for investment risk, and your time frame
Explain the implications of the strategies being proposed
Provide clear information about how they are compensated
Meet with you regularly to review your financial strategy action plan
As your advisor, this person will serve as a trusted consultant and deal with several important aspects of your life.  Think about what you need help with and ask the advisor to explain their approach that will help you reach your goals.  Your advisor should assist you with the rest of the process.
Know What You Have
Once you've found an advisor, it's time to take inventory. Knowing what you have is the beginning of your journey, and it's important to now identify your assets (accounts and things you own that are worth money) and your liabilities (monies owed to other people or companies—like your mortgage, student loans, and credit card debt).  Subtract your liabilities from your assets and what you're left with is your net worth.  
Next, establish your cash flow. If you're living paycheck to paycheck, paying bills late, or drowning in debt, chances are your expenses nearly exceed your income. Make a list of your monthly expenses—bills, rent or mortgage, credit card payments, car loans, and whatever else you choose to spend money on—and subtract that from your monthly income. What you're left with is your monthly cash flow.  
Create a Budget & Reduce Debt
The next step is to create a budget.  If your cash flow is positive, you have the essential tool that will make your goals achievable.  If you need more positive cash flow, reducing debt is a top priority.  If you commit to a monthly budget it will help keep you from living beyond your means while advancing your long-term plan for financial independence.
Create a Long Term Plan For Success
At this point, your ducks are in a row and you and your financial advisor are ready to sit down to create a customized plan. This plan should address your goals for spending, saving, and eventually retiring.  Beyond regular living expenses you should plan for bucket list, helping children and/or grandchildren, and health care expenses.
Monitor Your Plan Regularly
You and your advisor have created the plan and over time it will change.  Your financial advisor should be there to support, educate, and adapt to your goals as they evolve.   
For More Information:
Debbie Hightower, AIF
Partner/Wealth Management Advisor
(209) 639-6211
PicWealth.com
The opinions expressed here reflect the judgment of the author. The material has been prepared or is distributed solely for information purposes only and is not a solicitation or an offer to buy any security or instrument or to participate in any trading strategy. Additional information is available upon request. Investment products and services are offered through Wells Fargo Advisors Financial Network, LLC (WFAFN),Member SIPC, a registered broker-dealer and a separate non-bank affiliate of Wells Fargo &
Company. Pacific Investment Consultants is a separate entity from WFAFN. (CAR 0118-03612)