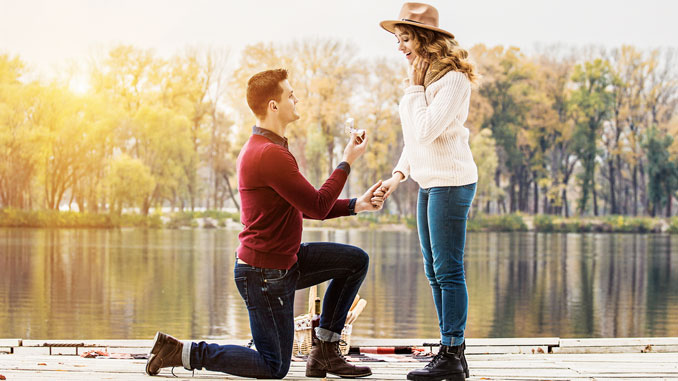 Getting engaged? San Joaquin jewelers talk ring trends for 2018.
A Rose By Any Other Name
Yellow gold was the metal of the 80s and 90s, and then white gold became the most popular hue for wedding rings. No matter what color the gold is, gold will always be trendy. Whether it's bought from adinasjewels.com/collections/rings or a local jewellers, gold rings are a popular choice for lots of couples. So what's trending in 2018? According to Kevin Schimke, owner of Kevin Schimke Jewelers in Stockton, rose gold is taking over. It's not all the rage yet, but an uptick in buyer interest has led the store to start stocking rose gold engagement rings and bands for customers. "Rose gold has increased in popularity," Kevin says. So, if you are looking for inspiration for that perfect engagement ring, you can open this website or carry on reading.
Into the Woods
Au natural is the theme of the times, so much so that some brides are forging precious metals with wood. Jeff Fields, owner of Peck's Jewelers in Stockton, says they are selling a lot of tungsten rings with wooden inlays-a good accessory for the outdoorsmen.
A Splash of Color
A hint of sparkle isn't enough for some brides. Eye-catching colored stones have always been on ring specialist's radar and recently the trend is taking off. You might want to take a look at Lab Diamond Engagement Rings to see which one you think is befitting your bride. "Colored stones are becoming more desired over diamonds," says Jessi Muniz of Time Honored "Fine Jewelry and Watches" in Stockton. "Emeralds, turquoise, sapphires, morganite, and even opals are sought out specifically for engagement and wedding rings." If you're not familiar with all of the options available to you, you may want to research a jewellry guide metals gemstones to help you make the perfect choice.
The Shape of You
The cut of a diamond speaks volumes about its wearer. From princess stones to emerald pieces, each style has its own je ne sais quoi. Kevin says the halo design (one large diamond surrounded by many small diamonds) is still a much-asked-for piece but people are venturing away from the traditional round gem. Instead orders include square, rectangle, and oval center stones, the last of which has been a popular shape on its own. "We're still doing lots of rounds but we're also doing lots of ovals and cushion cuts," Jeff chimes in.
Some alternative brides are drawn to uncut, unpolished stones. "Consumers like the rawness of their stones as it gives a new way to wear gems these days." says Jessi.
Better Safe Than…
Silicone rings have a reputation as the safest rings on the market. Designed to breakaway under extreme pressure, a medical-grade silicone ring can prevent a potentially finger-losing disaster. They are also free of metals-a benefit for those with sensitivities. They are a ring made for adventurers and those who often work with their hands. As an added bonus, they are low cost for brides on a budget or those who adopt a minimalist lifestyle but still want to show off their commitment.