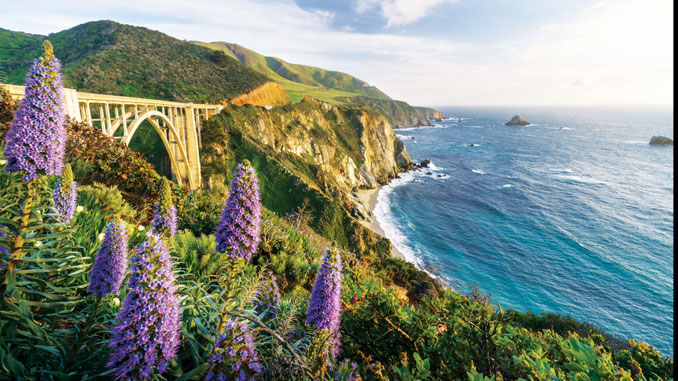 For Brides Who Love Adventure.
Toes in the sand, cocktail in hand, all-inclusive resorts with staff that craft tiny towel swans on your bed; that's the honeymoon cliché. And, there's nothing wrong with indulging in the expected. Honeymoons, however, do not have to fit a mold. Step outside of the box and out onto the cliffs with an expedited post-wedding vacation in Big Sur.
Where to Stay:
Did you ever sleep in a tree house as a kid? Bring back that childhood magic with an added dose of romance and luxury. At Treebones Resort in Big Sur, a glamping resort located about an hour into the state park when traveling from the north, husband and wife can have a woodsy experience without skimping on comfort.
Inside the fort, built by the masterminds behind Animal Planet's Treehouse Masters and accessible only by drawbridge, sits a full bed, gas fireplace, and tiny sink. A table for two in the corner is perfect for catching up over a glass of wine and board games borrowed from the main lodge.
Every nook and cranny of the rustic resort offers a new place to lounge and take in the scenery, all jagged cliffs and crashing waves punctuated by an occasional sea lion squeal or splashing whale in the distance. Slip into "The Nest," a swinging seat made for two where you can crack open a bottle and enjoy the pristine quiet, dip into the outdoor pool and spa that overlook the Pacific Ocean, or indulge in appetizers on the lodge's outdoor deck where the sunset is unbelievable. A twig hut close to the tree house is worth a visit where a small window offers views of the ocean. In a jungle of trees and twigs sit two Adirondack chairs with breathtaking views just for tree house guests.
Indulge
Amplify relaxation with an on-site couple's massage, also offered in-room for some guests, or join guided yoga practice in the amphitheater, a little deck surrounded by nothing.
Where to Eat:
No need to leave the resort. Treebones' serves delectable meals of filet mignon and other refined campfire cuisine made with ingredients grown in Treebones' organic garden. All can be enjoyed fireside in the resort's lodge. Seasonally, a sushi bar is added.
Breakfast is complimentary for guests and includes little touches that speak volumes of the hideaways eco-friendly appeal, such as water gathered from Treebones' private, natural spring and dry fettuccini to replace throwaway coffee stirrers.
Explore:
Big Sur: for those who like to adventure. You've enjoyed the luxuries offered at Treebones Resorts, but now it's time to get down and dirty. Ask for a map from the resort and plan your hiking trips for the day. Guided walks are sometimes offered and whale-watching excursions are seasonal.