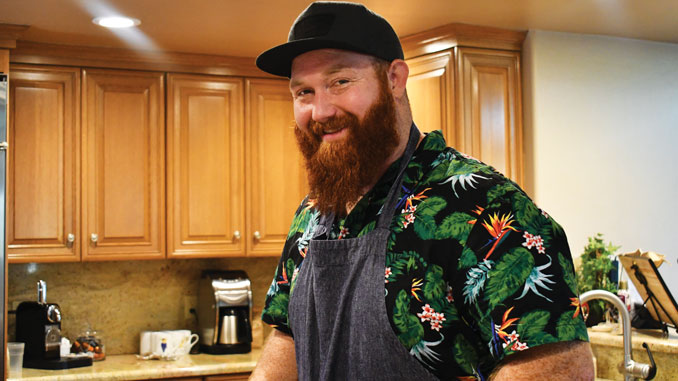 It is time to familiarize yourself with an all-star chef and player in the San Joaquin County culinary landscape, Nick Kubitz.
Born and raised in Stockton, he credits his culinary teacher at Lincoln High School for urging him to pursue a culinary career. Nick's culinary style can best be described as American Cuisine with a hint of home. His talent lies in his ability to incorporate traditional ingredients with a modern twist. A great example is his take on a classic American staple—deviled eggs. Nick's version utilizes fresh grapefruit and crispy, home-made potato chips as garnish. The rich, creamy eggs are reminiscent of childhood get togethers , but the grapefruit and truffle remind you why it is so good to grow up and explore playful food combinations.
Nick attended the Art Institute of California, San Diego where he earned a Bachelor's of Science degree in culinary management and hospitality. His education and culinary training led him to help a friend open a restaurant in Santa Cruz, and then to San Francisco where he worked with culinary legends.
After stints at famed San Francisco dining establishments Zuni Café and Jardiniere, Nick was offered the position of Executive Sous Chef for Zynga, the video game developer based in San Francisco. He was responsible for managing, hiring, and producing three meals a day for 1,800 employees. It was during his time at Zynga that Nick experimented with flavors and foods from cultures around the world. "Creating 60 to 70 recipes a week forced me to expand my culinary arsenal," he explains. "One dish would feature Indian cuisine, and the next would explore the flavors of Malaysia. It was a fun time of experimentation and growth."
But eventually, Chef Kubitz felt a calling to return to his roots and find greater culinary independence in Lodi's burgeoning wine country. He bought a home with his wife Katie and launched Range, a private catering company in San Joaquin County, where he offers a multitude of services for private parties. You have probably tried his farm to fork food at one of the dozens of wineries he has partnered with for wine dinners—including Acquiesce Winery, Harney Lane, and Mettler. Nick also collaborated with Cast Iron Trading Co. for a prix-fixe meal, and had the opportunity to cook with James Beard Chef Molly Sims of Ellerbe Fine Foods in Dallas, when they cooked up a storm for a Pre-ZinFest wine dinner at Lange Twins Family Winery and Vineyard last May.
But Chef has found his greatest support from local families that have hired him for private parties, dinners, and corporate functions. "It's a great feeling to have the community behind you, championing your food and what you are trying to do," he shares. "Coming from an oversaturated market in San Francisco to San Joaquin County demonstrated the importance of building relationships and creating killer dishes."
For More Information:
Range
RangeLodi.com
Facebook: @rangelodi
Instagram: @chefnickkubitz