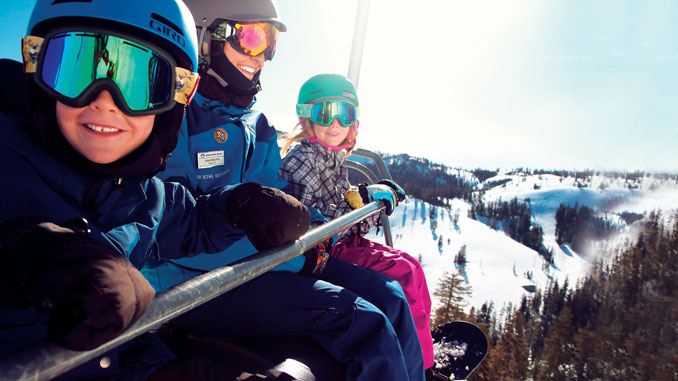 Now that the holidays are no longer holding you hostage, it's time to escape the San Joaquin Valley to enjoy your very own seasonal sabbatical!
And what better place to sojourn, than the plush, powder-laden peaks along Lake Tahoe? We dare you to take the plunge into snowy escapades—rich in ski resorts, snowboarding opportunities, and sledding potential—and arrive back home without a story or two to tell! And with a bounty of shopping districts, casinos along the roadside bends, and ample dining venues, you'll be rich in potential fun along the Jewel of the Sierras!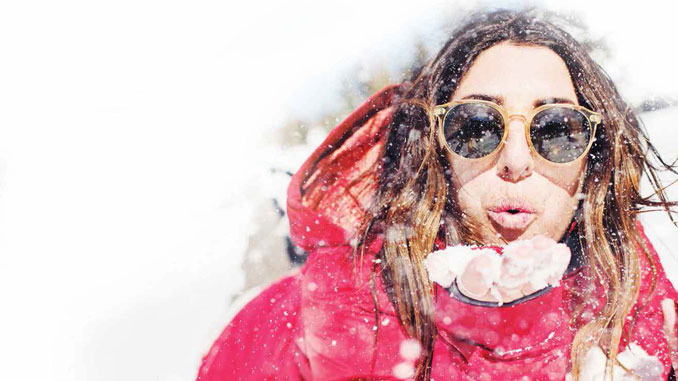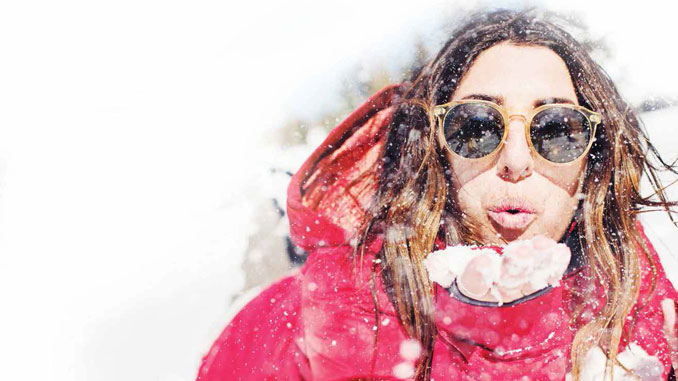 ON THE SLOPES
Skiing & Snow Boarding
The hills are alive with the sound of shredding! And our first stop lies in the breathtaking expanse of Squaw Valley and Alpine Meadows. The beauty of these two majestic land masses is their interconnect-ability, allowing a fifteen-minute shuttle ride between resorts that totals over 6,000 acres, 16 bowls, 42 lifts, and 270 trails. This makes for zones fit for beginners, intermediates, and daredevils alike.
Heavenly is aptly named, and features 4,800 skiable acres, 97 trails, and 1600-foot shoots for thrill-worthy plunges. The terrain parks are also on hand for landing sick tricks, or learning the ropes for beginners. Backcountry slopes are a definite must-try for those that can handle themselves.
No trip to Tahoe is ever complete without a visit to Sugarbowl. The trails are braced for intermediate and advanced players in 1,650 acres of skiable land. 4 Peaks dare you to test your mettle, but don't worry. Only mother nature is ready to judge if you fumble that landing. But we hear she's pretty merciless around these parts.
Mush!
Dog Sledding is an easy-going alternative to enjoying the beauty of Lake Tahoe, all curled up in the comfort of the cargo sled! Book a ride with Wilderness Adventures Dog Sled Tours and enjoy an hour-long trip through beautiful trails, and a chance for a meet and greet with your furry guides!
On Foot, On Wheels, & Beyond
There's more fun to be had along the powdered banks of Tahoe's landscape! If you'd prefer to keep your head in the clouds, but your feet on the ground, pick up a pair of snow shoes at Mountain Mike's Tees and Skis and Snowshoe Thompson's. When you're outfitted and raring to go, charge over to Bijou Park, a central location in South Lake Tahoe that offers fairly flat land to get your trek off to the right start. Meyers is also your best bet, providing moderate trails for those that want a bit of a challenge.
Warning! This isn't your suburban neighborhood bike ride, and this is definitely not your trike, for that matter. Tahoe Mountain Guides offers an adventurous ride along snow-slogged trails with their fat bikes. Enjoy 6 – 10 miles of pristine Tahoe views while on your tour, built to fit the needs of you and your trail buddies.
There's nothing like hitting the throttle and spilling over smooth powder on a snow mobile. Eagle Ridge Snowmobiling offers a guided tour along 200 miles of trail, with the added bonus of play areas where you can let your inner child hang loose! If you're not looking for a chaperon, head on over to Full Throttle Tahoe, where riders are free to forge their own path across the region.
By Tube or Sled
Some of us, filled with winter wanderlust, would rather keep our rumps close to the ground, while also enjoying the thrill of some steep hills. And that's where the art of tubing and sledding comes into play. Adventure Mountain caters to this need, with machine-tailored runs that bring you up to speed and send you screeching down the track. If you have certain family members that would rather take to the board, or set of skis, Heavenly offers their own tubing hill that's perfect for getting the adrenaline pumping!
 What are you Wearing?
Thermal wear is always in season when it's time to take to the snow. Begin your layering system off this piece, which easily fits under most clothing and helps to keep heat in. You'll want to add snow pants and a sweater, a ski jacket, and scarf. And, above all else, choose high-quality snow boots and gloves. You do NOT want to get frostbite. Ouch!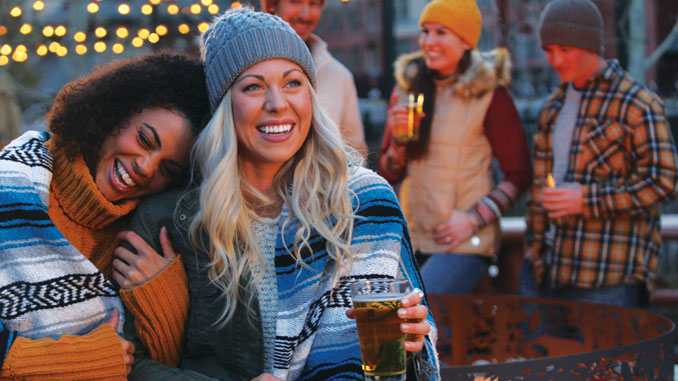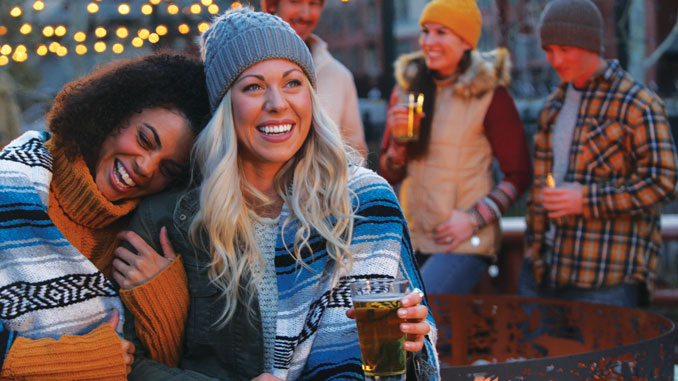 OFF THE SLOPES
Foster Your Inner Foodie
When it's time to take a break from all your winter revelries, make a trip up to the mountaintop at Heavenly, where you'll find Tamarack Lodge. As a cafeteria-styled restaurant, Tamarack offers a superb rest stop with bar, burgers, sandwiches, and finger foods. Get your fill on soup or chili, then hit the slopes when you step out the door.
If your hunger pains won't allow you to make it to the top, or you'd rather get one last plunge along the slopes before calling it quits, Base Camp Pizza has got you. Perfectly situated at the base of Heavenly's gondola, Base Camp Pizza is a treasure trove of appetizers, soups and salads, pasta, and most importantly, pizza! From classic pepperoni, to Thai Chicken Curry, the wait time is always worth every minute.
If you prefer to traverse Tahoe with an emphasis on local favorites, your next stop is The Brewery. Opened in 1992, the brewpub crafts exceptional ales alongside pizza offerings that have turned into stop-in staples. When you visit, don't forget to request one of their signature specialty cocktails like the Bad Ass Lemonade.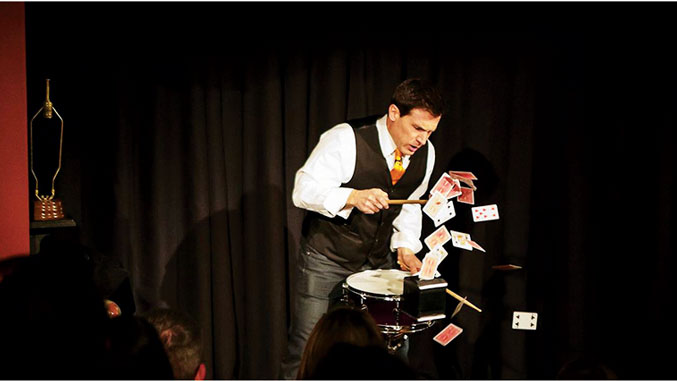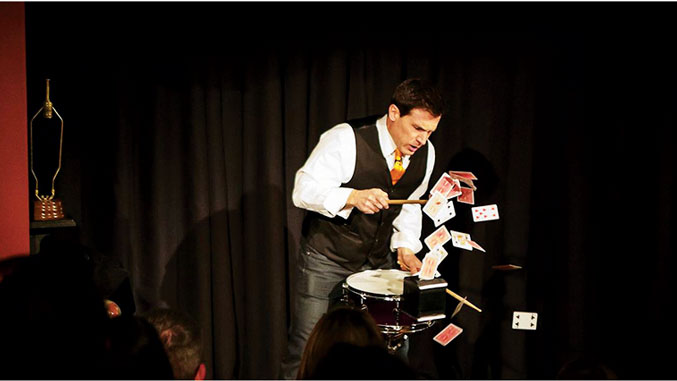 Dinner & A Show
Pair your evening with a full bar, first class Italian cuisine, and live performances at The Loft—a theatre, lounge, and dining venue merged under one roof. Table-strolling magicians, house crafted entrees, and the nightly acts are the ultimate way to recoup after a long day spent along the snowbanks.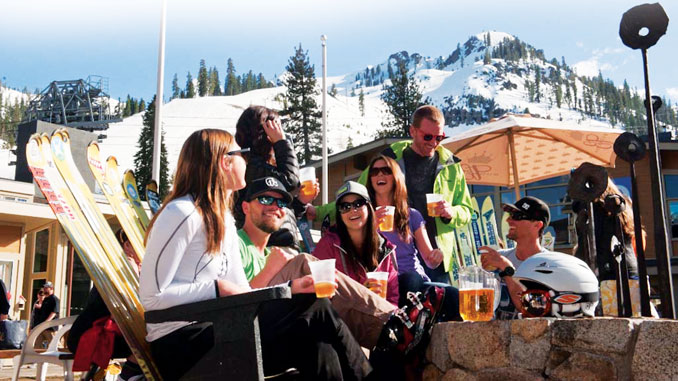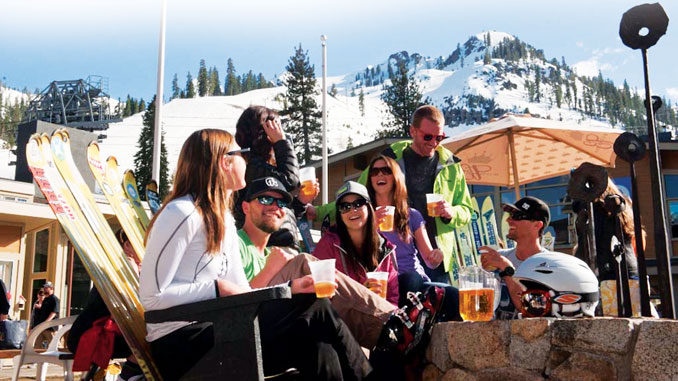 Kickin' Back A Brewski
No trip into Tahoe would be complete without sampling some of the local brews. Lucky for us, Tahoe Brew Tours offers a guided expedition into three selected breweries, complete with behind-the-scenes tours with the brew masters themselves, sample flights, appetizers, and a designated driver and local guide—so Ted won't wander off into the wilderness again and wreck the whole trip.
Choose the South Shore Brewery Tour, North Shore Brewery Tour, or Tours after Dark for those night owls in the group. Among potential stops are Cold Water Brewery & Grill, Sidellis Lake Tahoe, South Lake Brewing Co, Fifty Fifty Brewing Co, Tahoe Mountain Brewing Co, Alibi Ale Works, and Desolation Brewing Company.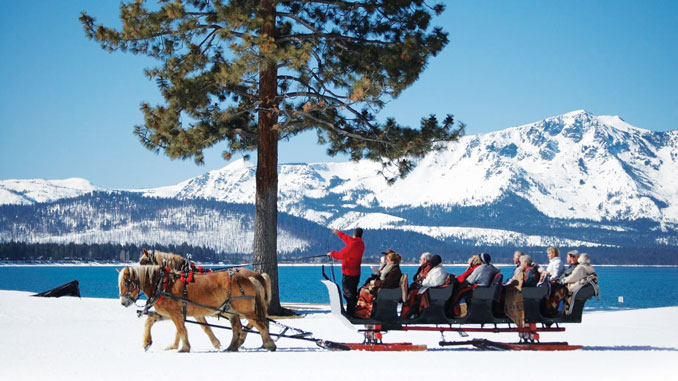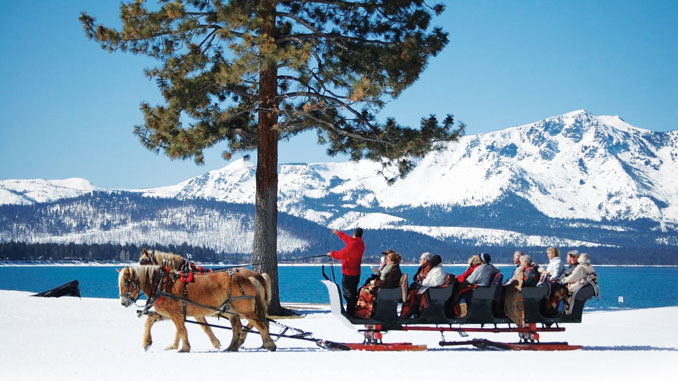 Dashing Through the Snow
While there may not be any hills or dales, you'll be laughing all the way on your scenic, hour-long journey in a one-horse open sleigh! Borges Sleigh & Carriage Rides are perfect for the kiddos or couples alike! Meet and greet with your horse, snap a few breathtaking photos (and a few selfies!) along the ride, and snag a memento from the local gift shop to make your trip complete!
Take A Gamble
Can you hear it? The ringing of your sweet victory at the slots? Or perhaps the singular swipe of cards across a poker table is more your thing? Whether you're dealing in Blackjack, Bingo, or raking in the dough at the dollar slots, you've got to take your chances with Lady Luck at least once!
Harrah's Lake Tahoe offers over 1,300 slots and video poker machines, with special concerts, Tuesday Night Blues, and dining options that cater to your needs. Harvey's Lake Tahoe is another powerhouse of a casino, with over 88,000 square feet of game floor, and almost 100 live-action table games alongside their 1,200 slots. Improv shows are a huge hit here, and the restaurants are tailored to your timeframe. You can certainly bet on Hard Rock Hotel & Casino, where seasonal events are engaging alongside 25,000 square feet of casino floor. Get in on the backstage pass rewards club for some sweet freebies that add up as you game.
Skirting the Skyline
Whether the weather is cold, or whether the weather is hot, your powered hang gliding tour across the majestic waters of Lake Tahoe is waiting when you make a reservation with Hang Gliding Tahoe. Choose your breathtaking view with a variety of packages, with a minimum of 60 minutes! Videos and pictures are also available via a special cam attached to your glider, showcasing your entire experience and your unique opportunity to take control of the glider during an interactive flight lesson.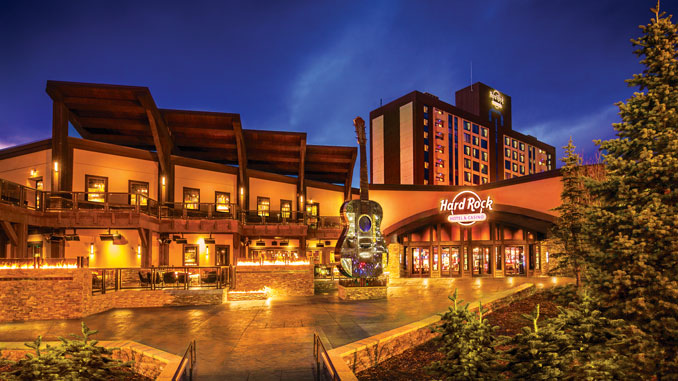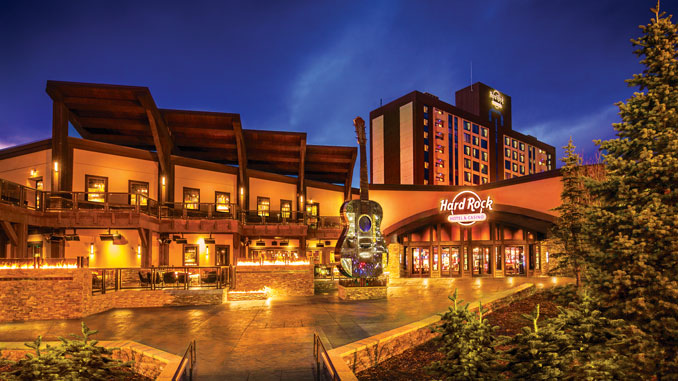 ROOM & BOARD
Lake Tahoe has no shortage in sleeping accommodations catered to your vacation style. And while you can always take the easy route and stay at the one of the many ski resorts themselves, or lock yourself away in one of the casino cookie-cutter estates, you risk losing an adventure in and of itself. Take Fireside Lodge Bed & Breakfast on for size. This cozy little corner of Lake Tahoe offers log cabin-styled rooms, perfect for getting away without removing one's self from all the local action. Enjoy top breweries only blocks away, along with a complimentary wine tasting hosted by the lodge itself, plenty of little nooks to relax in at Fireside, and complimentary bikes to use to get around.
Experience first-class lakefront living at the Chaney House, a stone manor first built in the early 1900s. Rustic beauty meets all the modern marvels of man, here. And resorts, snow sports, and private beach access are only a short jog away.  Not to mention their gourmet breakfast in the formal dining room is, quite simply, to dine for!
And, of course, you can't go wrong with finding your own piece of paradise through Airbnb. Relish Lake Tahoe like a local by renting out lofts, cabins, or condos! You choose where your adventures begin and end each night by sticking close to the downtown scene, or escaping into the wilderness in a romantic A-Frame home along the pine trees.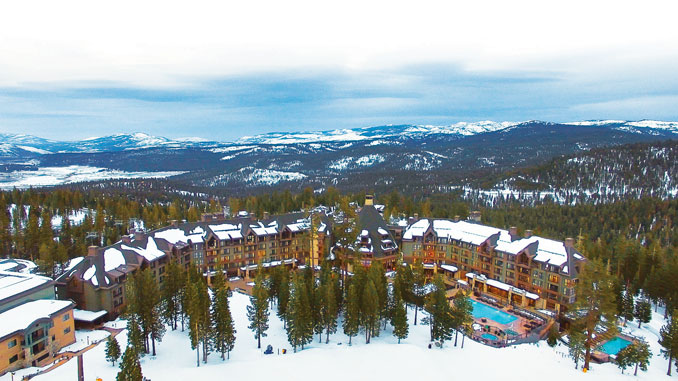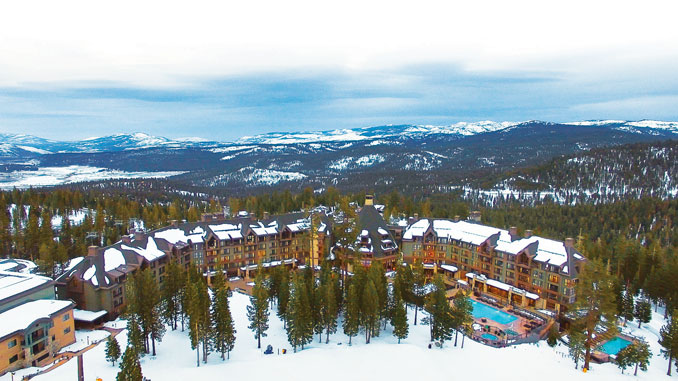 SPA DAY
There's nothing quite so sublime as kick starting a vacation with a spa day. With a myriad of rapturous relaxation venues along the snow-kissed region, your muscles will thank you before hitting the slopes. Your first stop? How about a soak in the Sierra Hot Springs? This non-profit retreat relinquishes your worries along spring-filled pools both indoors and among nature. Swedish, Deep Tissue, and Aquatic massages are a perfect complement to your dip, also offered in couples' packages.
When you're looking for the lap of luxury, look no further than the Ritz-Carlton Spa. Prep for your treatment in the eucalyptus steam room, before enjoying your stone massage and a stimulating essential oil and full body exfoliation with private tub soak and full body massage.
No trip to the best spas in Tahoe is complete without wrapping your visit up with The Landing. Catered to match your pampering pleasures, The Landing features a variety of massages, including Warm River Rock, Sports, Deep Tissue, and Relaxation. Enjoy a mood-elevating facial service along with your body wrap. It goes well with their heated treatment tables, ensuring every inch of you is relaxed to the highest degree.
SHOPPING
Sometimes it's hard to remember that there's some pretty cool shops all wrapped up in this winter wonderland. If you're looking for some unique, eco-conscious gifts for loved ones or yourself, Tahoe Hemp Company offers a variety of apparel, bath and body products, and gear. We highly suggest the lip balm, which is goodness in itself! 
Jai Yen Treasures is another incredible escape, instantly transporting you to the far regions of Thailand. Here, artisan crafts are held for sale, imported from small, high-quality businesses in Thailand and Laos. Find beauty in pendants and leathercraft, spa products and home décor. All while sipping on a cup of tea.
Our next stop has a lot of junk in the trunk, and we wouldn't have it any other way. Trunk Show is an eclectic enterprise comprised of locally created artwork, jewelry, and all-around interesting baubles. You'd be hard-pressed to walk into this store and not come sauntering out with a uniquely designed Lake Tahoe mug as a sweet souvenir.