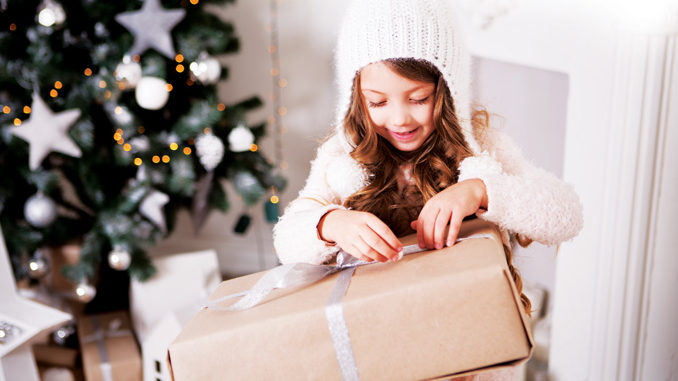 Stumped on what to get the kids on your holiday list? We've rounded up the hottest picks of 2017 with everything from Christmas must-haves to local treasures.
Toddlers/Preschoolers:
The New Teddy Ruxpin Bear
He's back, baby! This year's most coveted toy is a refresh from the 1980s, a lovable, story-telling bear named Teddy, Teddy Ruxpin, that is. The 2017 version is updated to match the technology of the times—i.e. no more cassette tapes for Teddy! Ages 2 and up. Available at most major retailers.
 Sweet Cheeks Baby Goods
No need to dress your kid in clothes half the class will have! Sweet Cheeks is a line of handmade clothing created right here in Stockton! The collection includes pants, bibs, and headbands in unique prints for ages newborn to five. Ages 0-5. Available NEW at Caterpillar Children's Boutique.
 Soggy Doggy Board Game
For kids who love pets and water play, the Soggy Doggy Board Games is the ultimate holiday gift! During play, participants make their way around the board while soggy doggy gets a bath. But beware when soggy doggy shakes. Anyone who gets wet, goes back to the beginning. Ages 4 and up. Available at most major retailers.
 Dance Code Belle
There's never been an easier way to combine your child's love of princesses with their passion for STEM. With this doll, children learn basic programming techniques to make Belle dance. Ages 3 and up. Available at most major retailers.
 Melissa & Doug Star Diner Restaurant
A step up from the standard play kitchen, this Melissa and Doug toy features a kitchen on one side and a 1950s-style diner booth on the back (complete with mini-jukebox) so kids can play chef or customer. Ages 3 and up. Available at most major retailers.
Elementary School to Middle School:
 Speak Out! Kids Vs. Parents
Family game night is getting an upgrade! Hasbro's popular Speak Out game, which forces participants to wear a silly mouth guard while trying to say different phrases, now has a Kids vs. Parents version. For ages 8 and up. Available at most major retailers.
 Xbox One X
Xbox One X is the newest console to hit stores. It's faster, newer, and boasts better graphics than its predecessors. Available at most major retailers.
Pokemon Trading Cards/Booster Packs
Kids can't get enough Pokemon! Every few months a new set is launched offering new cards for Pokemon game players and collectors. The Sun & Moon Burning Shadows Booster Pack is flying off the shelves at Comic Grapevine in Lodi. Ages 6 and up. Available at Comic Grapevine.
Roller Coaster Challenge Logic & Building Game
Future architects draw challenge cards and build the roller coasters in question using provided pieces. Ages 6 and up. Available at most major retailers.
 LEGO Boost Creative Toolbox
Is your child tech-savvy? Take Lego play up a notch with this robotic creation. Over 840 LEGO pieces, a move hub, and an interactive motor make play opportunities endless. Ages 7-12. Available at most major retailers.
 Dog Man: The Epic Collection
From the creator of Captain Underpants comes Dog Man! It's a trilogy of silly stories for kids available in a boxed collection. Ages 7 and up. Available at most major retailers.
All Ages:
Annual Pass to the Stockton Children's Museum
Looking for a gift that keeps on giving? An annual pass to the beloved Stockton Children's Museum is the way to go. It's the perfect gift for the kid who has everything, and parents will be pleased it doesn't add to the growing pile of toys at home. Pick up an individual membership for one kid and one adult for $60, a general membership for four individuals at $95, or a reciprocal membership, which allows unlimited admission for up to six, plus added perks, at $150. All ages. Available at Stockton Children's Museum.
The Haggin Museum Membership
Gift a membership to the Haggin Museum. Not only do memberships help fund the museum (which recently underwent its largest transformation to date) but families will get to enjoy free admission every day of the year. The cost is just $55 for a yearlong pass that admits all immediate family members, plus perks. All ages. Available at The Haggin Museum.
Movie Tickets
Give a child an experience instead of a present with movie tickets to the closest theater. Gift cards can be purchased in exact amounts to cover tickets and tax for a child and a friend. Bonus points if you add cash for popcorn! All ages. Available at area movie theaters.
Petsies
Is your child's pet their best friend? Did a furry family member recently pass away? Whether you're looking to commemorate a pet in the ultimate way or simply want to give your child a cuddly keepsake to provide comfort when they are away from home, Petsies has the answer—a stuffed animal custom created to look just like your pet. All ages. Available online at Petsies.com.