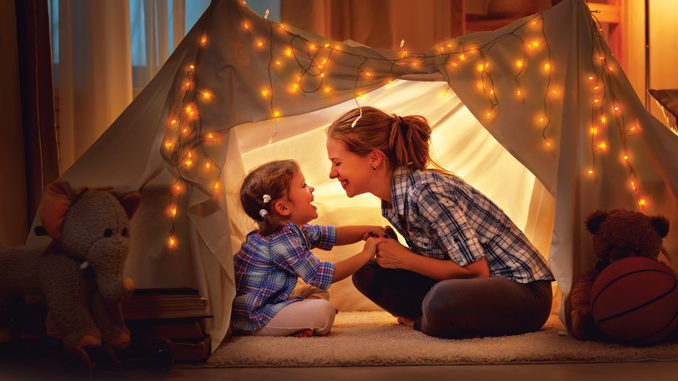 There's no need to leave the house to have fun with your family members. When the dreary weather has you confined indoors, get creative. Try out some of these family activities to turn winter boredom into fun, fun, fun!
Play-At-Home Laser Tag. Love playing rounds of laser tag at the arcade? Set up a game at home. Drop a set of Kidzlane laser guns into your Amazon shopping cart and store them away for the next rainy day. Play in teams or one-on-one with guns that vibrate every time an opponent shoots it. Up the ante by placing a bet—like winner gets to choose the next movie!
Camp-In. For kids who love the outdoors, winter can feel like a long stretch of rainy days with no chance for fresh air. So what do you do? Go camping without leaving the house! Set up the tent, "roast" some marshmallows, and put the electronics away for the night. Gather around the fireplace for spooky stories before slipping into sleeping bags. Best part? You won't get cold!
Get Crafty! Trying new activities as a family is one way to build stronger bonds with those closest to you. Ever wondered how people make candles? Buy the supplies—wax, wicks, glass containers, and essential oils—and set up a work area. Kids will love to make something useful, or even to be given as gifts during the holidays!
Have a Movie Night. Take movie night up a notch by taking it beyond a DVD in the Blu-Ray player. Stock up on microwave popcorn and movie theatre snack boxes (found in the Target dollar section) to whip out for movie night. Play a game of rock-paper-scissors for the movie pick and then pop out the couch bed or build a family fort to get cozy in while you watch.
Turn on the Oven! Kids who are taught to cook early in life are more likely to continue the habit into adulthood. Instead of ordering out, make a meal at home as a family. DIY pizza is a popular pick, especially if each family member gets to make their own personal-sized pie, including choosing the toppings. Want to add a dose of holiday magic to the mix? Follow up dinner with holiday-shaped sugar cookies.