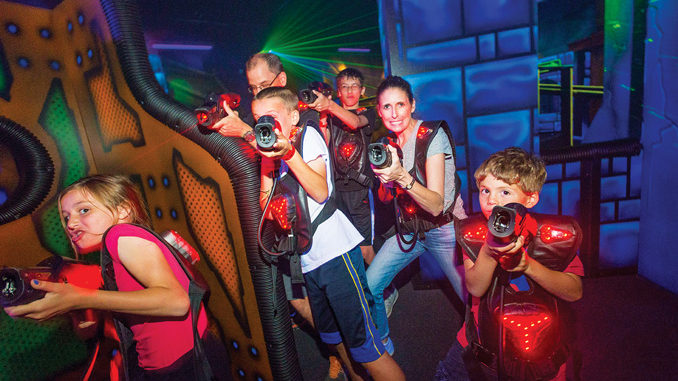 Put away the piñatas and bid farewell to balloon animals, because birthdays just got better.
After hosting over 5,000 birthday parties—and being crowned 'Best of San Joaquin' nearly a dozen times—Zap Zone Laser Tag in Stockton is an interactive way to celebrate.
Paul Clark was inspired to create Zap Zone after being invited to a laser tag birthday party in Modesto. Hoping to create a local space for families to come together, Zap Zone opened its doors in 2009 after two years of planning. Paul's wife, Karli Clark, soon joined him as the general manager.
"We've both lived in Stockton our entire lives," Karli says.  "We've seen Golfland come and go and we've seen Hammer Skate come and go. We wanted to give kids something to do in Stockton. And not only the kids, but adults too. We try to cater to the whole family, and get people out to do things together."
Zap Zone welcomes walk-in customers for laser tag sessions and offers all night lock-in events. In addition to the largest laser tag arena in the state (third largest in the country, according to Karli) Zap Zone also has an arcade, bounce houses, and snack bar (that serves beer, too!).
Karli says Zap Zone stands out in many ways, namely in the laser tag equipment itself. Instead of offering one or two modes like many laser tag arenas, Zap Zone has a variety of game modes. These include the popular Spy Mode that allows players to temporarily change the colors of their vest to sneak up on an unsuspecting opponent. 
But what they have become best known for is their no-stress birthday parties.
"We're a family owned business and we want you to feel like family," Karli says of why it's so important that birthday parties at Zap Zone take pressure off parents. "We try to make them feel as at home as possible."
The birthday packages offer a choice of two to four sessions of laser tag in the two-story laser tag arena, a private party room, drinks for the players, and a return pass for the birthday boy or girl.
The icing on the cake? Parents don't have to worry about the logistics of hosting a party. Zap Zone staff serves the food and drinks, keeps a gift log, and handles party clean up. This gives guests and hosts alike the opportunity to enjoy themselves!
Book Your Next Birthday:
ZapsZone.com