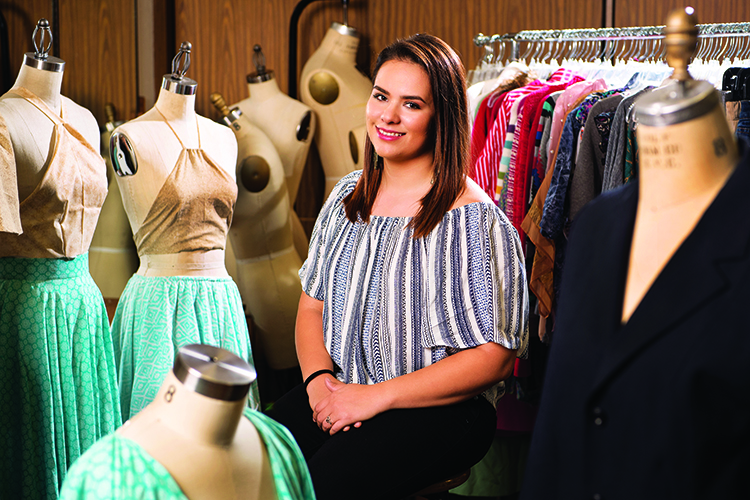 The great thing about creativity is how it can begin with just a spark of inspiration. In the case of Ana Maravilla, all it took was a bit of fabric and a gentle nudge in the right direction. Ana found her own spark in the folds of the fashion club at Edison High School in Stockton, where the club advisor took her under her wing. From sewing machine basics and design, Ana's appreciation for the fashion industry blossomed. "I was interested in how I could create something from just a piece of fabric and paper and a pencil," Ana shares.
After earning a scholarship to Delta College, Ana dove head first into the fashion program and has since been working toward her Associates of Arts degree in Fashion Design.
"They're really pushing me to think outside the box," says Ana. "Not only just designing, but the business side as well—everything behind the scenes and all the preparation. I think that's not only good for fashion, it's good for any career."
As one of the designers in this year's Delta College fashion show, A Story of Fashion, it isn't hard for Ana to find inspiration. She wants to represent the freedom she feels at the beach through light colors and textures.
And while Ana enjoys the design process, she has an eye for seeing the artistic elements in clothing and plans to pursue a career as a fashion photographer. "Knowing design and how fabrics work inspires [me on] how to take the picture," Ana smiles. "Fashion photography isn't about the model. It's about the actual fabric and that's what helps you construct the photo."
But more than anything, Ana wants to share her passion with the next generation of fashion industry hopefuls. After her designs appear in A Story of Fashion, she plans to visit Lathrop High School, where her high school fashion club advisor now teaches, to share her experiences with the students.
Whether it be through her own designs or photography, Ana aims to show that fashion is more than something to wear. It is an expression of creativity.
Delta's "A Story of Fashion"
May 5
The crown jewel of Delta College's Fashion Program is quickly approaching on May 5th! A Story of Fashion provides the public with an enthralling look into the works of the Fashion Event Production class and the Collections Design class. Students present their creations alongside program alumni on the runway, ensnaring over 600 in attendance. Plan your evening wear and grab a seat before curtain call at 8 PM!