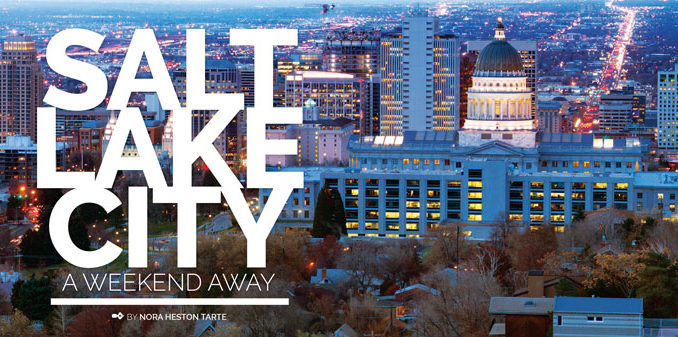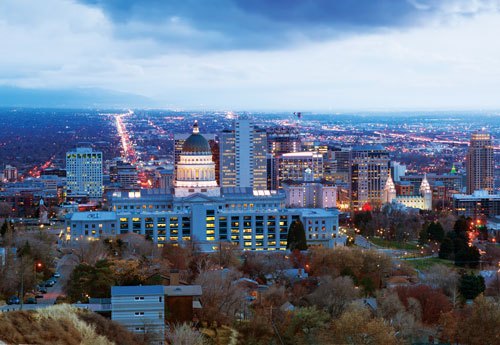 Known as the home base for the Church of Jesus Christ of Latter-day Saints, as well as the majestic Great Salt Lake and correlating Salt Flats nearby, many overlook the high-elevation capital's big city appeal. A bustling downtown anchored by breweries and colorful artwork give Salt Lake City serious urban street cred, while the surrounding mountains cement its reputation as an outdoorsy destination perfect for hiking, biking, and more.
Salt Lake City is just a quick flight (less than two hours) from Oakland, San Francisco or Sacramento, making it a prime long-weekend escape for San Joaquinians (Labor Day weekend anyone?)
High-quality accommodations. This mountainous escape sits at over 4,000 ft., which lends to its outdoorsman appeal. Nearby mountains offer biking, hiking, and camping locations not far from the city center, and in the winter these locales double as some of the best places for snow sports.
It's important, however, to stay close to downtown, where you can walk (or catch free transportation). A car will be needed to reach some of the more scenic spots.
With 775 rooms and suites over 24 stories, the Grand American Hotel (555 Main St.) is situated in the middle of SLC's action, making it a good base for exploring the city.
If you're looking for a little R&R, order room service and enjoy it on the balcony (every room has one), or head down to the Grand Spa to explore the menu of treatments. Grab a chaise next to the pool or show up for one of the hotel's sponsored activities such as poolside movies.
Marble-clad and paneled main rooms as well as an indoor courtyard lend to the hotel's opulence, but at a price that wouldn't suggest how gorgeous it is inside and out.
The hotel offers a family-first strategy for those traveling with kids. Not only can rooms be outfitted with comforts to make traveling with young ones easier (call ahead), the concierge will also help locate area babysitters if you need adult time.
Even shops within the hotel-like JouJou (a toy store) and La Bonne Vie (a candy shop)-cater to the family experience.
Getting Around. One of the biggest upsides to visiting SLC is the convenience of the light rail (or TRAX). We admit a train that travels through the city isn't a novel idea. However, the light rail is free between downtown stops, which makes venturing out quite easy. There's even a station just outside of the Grand American.
Stay in the free fare zone to avoid fees. You can use the light rail to visit other hubs, as well, for about $2.50-5 per trip, or purchase an all day pass.
The system is fairly straight forward, offering colored lines that take visitors all over the city and maps at every station. Keep an eye on your route, and ask the driver if you need assistance.
Brewgrub. National award-winning beers are par for the course in downtown SLC-a surprising stat for many who have never visited before. Perhaps it's the rumors of rare liquor laws (and yes Utah has a few) that keep beer aficionados from trying their luck in the LDS capital of the word. But if you give it a go you may be surprised about the quality (and candor) of the brands.
Squatter's (147 W. Broadway 300 S), a downtown brewpub and restaurant (order the macaroni and cheese!), serves a lineup of Utah-made brews. A wink to the city's LDS population, one of the most popular beers is dubbed Polygamy Porter (if you're dining in you can even grab a shirt that says "I've tried Polygamy," a tongue-in-cheek reference to one of the religion's ancient practices).
If you're there to sample brews, it's good to know the rules to the beer tasting game in Utah (although if you have any questions, your server should be able to fill you in). For starters, there's no "flight" at these brewpubs because dropping that many glasses of alcohol on a table is against the law. Squatter's (and others) will let you try samples, but you'll have to order in shifts.
Try not to get hung up on the fact that more than two samples at a time per person are forbidden when the ounces clearly don't equate to a full beer. And never mind that ordering by the pitcher is totally legal.
You might notice some other off-kilter practices by the local wait staff. For example, you won't be able to get those IPAs in a glass. Beers above 3.2 percent alcohol by weight (ABW) can only be served by the bottle.
Utah-Strength Beer. While visiting SLC, you may hear the term Utah-strength beer. This relates to the 3.2 percent ABW law Utah operates under. But the brew masters behind Utah's biggest beer brands have a few things to say about it. For starters (bare with us, there's math involved) when calculated to alcohol by volume (ABV), as all liquids should be, and how most other states calculate alcohol-content, it actually evens out to 4 percent. This is about .4-.5 percent less than many big name light beers.
Also, while the sale of these beers is restricted in some capacities (this doesn't mean by age either, you could look at something like these best fake id websites 2020 if you think your age might make a difference) it doesn't mean these brands don't turn out labels with higher alcohol contents. For example, Uinta has a brew that registers at 13.2 percent ABV, and Epic Brewing Co. (825 State St.) has one that doesn't fall far behind.
The biggest name in the Utah brew game is Uinta Brewing Co. (uintabrewing.com). It's not unheard of to see their beers in California liquor stores (in fact California is one of its biggest distribution states), but seeing the facility (1722 Fremont Dr.) in person is another kind of adventure.
Call ahead and schedule a tour to see where beer is made and bottled. It's a cool opportunity to learn about the beer-making process, and they'll let you do it with a drink in hand.
The attached restaurant offers build-your-own sandwiches and an urban-chic bar shows off the company's commitment to green operations. Inside there is a store where you can stock up on bottles to bring back to your room, or even purchase a growler.
Nightlife. Like any big city, there's plenty to see and do after the sun sets. Bars dot the area's downtown and high-end restaurants occupy every corner. Traveling, however, is the perfect time to take advantage of an area's specialty offerings.
Wiseguys Comedy Club (194 S. 400 W) has a steady lineup of funny guys (and gals). It's located at the Gateway mall, which is packed with restaurants where you can grub pre- or post-show, as well as fun shops that are open during the day.
Ballet West (Fun Fact: This SLC-based ballet company enjoyed two seasons as the subject of a reality television series dubbed Breaking Pointe from 2012-2013) starts their 2016-2017 season in November (balletwest.org).
Natural History Museum of Utah. If you brought the kids (or not) this is an ideal stop. The Natural History Museum of Utah is home to the largest display of horned dinosaur skulls in the world. It's located at the Rio Tinto Center on the campus of the University of Utah (301 Wakara Way). One cool feature is the glass-floor areas inside some dinosaur exhibits.
Those who didn't come for the dinosaurs will be impressed by the buildings' architectural uniqueness, as well as the vast array of other permanent exhibits. Guests can catch a glimpse inside the scientists' workspace as they clean fossils or check out live creatures trapped in spheres upstairs.
Don't forget to step out onto the observation deck, a good spot to have a look at some of Utah's vast mountainous views.
Pro Tip: If you fancy yourself a hiker, the hill behind the museum is a favorite amongst locals and students.
Scenic drive. If you've rented a car, the drive between SLC and Park City is a great way to witness some of Utah's picturesque scenery without veering off course.
Take a drive through Emigration Canyon, over the mountains, and into Park City-a place made famous by its ski destinations, Olympic ties, and as the site of the Sundance Film Festival.
The route follows I-80 E out of SLC and into Park City. Along the way there are several points where you can pull off and snap photos of the blue waters and tall mountain peaks.
History Lesson: Olympic Games. This route will also go straight past Utah's Olympic Park built for the 2002 Winter Olympics. The worthwhile stop is open to visitors.
Inside, a museum, games, small store, and documentary-style video from the Olympic games are free and open to the public.
Outside sit the practice ski slopes. Throughout the year, visitors can catch athletes practicing, diving fully clothed into the water after completing gravity-defying tricks.
For a price, there's also opportunity to zip line and partake in other adventures at the park.
Park City. The quaint, mountain town is laid out much like a higher-elevation Lake Tahoe, with kitschy shops and one-off restaurants lining the hilly roads. Trolleys akin to the ones seen in San Francisco offer an easy way to hop-on, hop-off along bustling Main Street.
Here, art galleries and jewelry shops are aplenty, situated in between upscale clothing boutiques and themed stores. Dolly's Books (510 Main St.) offers a variety of small gifts and stories, a perfect place to pick up souvenirs for loved ones or reading material for the trip home.
Mountain Town Olive Oil Company (613 Main St.) offers tastings and sells a variety of flavored olive oils, handmade kitchenwares, and spices. Don't forget to stop into Love Your Pet Bakery (780 Main St. Ste. 101) to pick up a gift for the furry friend you left behind, and to give a quick pet to the shop's resident hounds-Atlas and Apollo, a couple of Newfoundlands that weight 200 lbs (each!).
The Art Scene. Almost as surprising as the overpopulation of microbreweries in SLC is the presence of vibrant street art downtown.
The result of a kind-of unspoken partnership between the area's downtown alliance, business owners, and local artists, downtown shows off cool, colorful creations. From odd sculptures between roads to entire building faces painted by (sometimes anonymous) artists, there's plenty to see in the way of art downtown.
Check out a painting of the Beatles' infamous Sgt. Pepper's album cover done by the original artist Jann Haworth (250 S. 400 W), a themed mural behind E-born Books (254 S. Main St.) and a graffiti-esque piece on the side of the Yardstick Building (52 E. 300 S). Even Squatter's has a colorful mural on the side of the building. Not all of the pieces are permanent, so get to them before they're gone.
All of this is in addition to the established art galleries and museums throughout the city.
Sculpture Garden. Off the beaten path, Gilgal Garden (749 E. 500 S) is a park full of stones turned into sculptures, envisioned, designed, and created by Thomas Battersby Child, Jr. eight 200 lbs (each!).