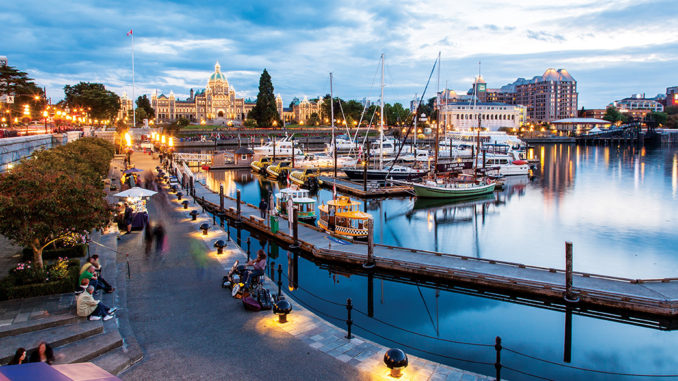 By Nora Heston Tarte
Can't decide between an adrenaline pumping vacation packed with activities and primed for the outdoorsman and a laid-back city escape focused on food and nightlife? Why not have both? Set your sites on Victoria, British Columbia. Located on the southern end of Vancouver Island, this escape offers the best of both worlds, without leaving the continent. Stay downtown in a boutique hotel just steps from the hustle and bustle of the popular inner harbour, then escape to the countryside for a little bit of fresh air and a whole lot of adventure.
WHERE to STAY:
Ditch the grandiose hotels and opt for something more intimate. The Magnolia Hotel & Spa offers uptown luxury in a downtown location. Walking distance from local eateries, nightlife and The Bay Centre shopping mall, there's plenty to do nearby. Stretch your legs and head to the famed inner harbour just a few blocks away, where seaplanes, cruise ships and small boats dock, to enjoy the marina's plethora of vendors—from culinary treats to one-of-a-kind artwork—and tasty seafood specialties. Don't forget to glimpse the British Parliament Building, a gorgeous, historic structure right on the water, and tour the Royal BC Museum where natural and human history are displayed through three thoughtful exhibits.
  When you're ready to relax, cozy up to the fireplace in your Diamond Room and spend an evening enjoying the expansive views offered through floor-to-ceiling windows. An in-room mini-bar stocks drinks and snacks to enjoy before ordering room service from the attached eatery—Catalano Restaurant, which serves Mediterranean cuisine, primarily from Spain and Italy. Then, slip into a plush robe and put on your slippers before heading down to the Spa at Magnolia for a serious rubdown.
WHERE to eat:
No Canadian retreat is complete without a sample—or two—of its most infamous dish. La Belle Patate is revered for serving up the best poutine—French fries topped with cheese curds and gravy—in the city. The menu boasts several variations on the classic, including Italian Poutine (poutine with meat sauce) and mish-mash poutine (loaded with pepperoni, bacon, mushrooms, onions and green peppers).
  Next up, locals will insist you dine at "Pag's" better known to tourists as Pagliacci's. Located at Broad & Fourth streets, the eatery dishes up brunch, lunch and dinner, and everything on the menu will leave you craving more—despite generous portions. From The Big Easy (jumbo prawns, chicken, Italian sausage, bell peppers and mushrooms tossed in spicy Cajun marinara and served over penne with parmesan) to the Spaghetti Western (spicy meatballs and linguine in tomato sauce with parmesan) pasta is always a good choice at Pag's. However, if carb-loading isn't your mission, the menu also lists sandwiches, soups, salads, burgers and more.
What to Do:
You've already toured the historic buildings and museums and grubbed on some of Canada's best culinary surprises, so what's next? It's time for adventure! Head to the countryside, just a short drive from the bustling downtown, and trade in your seatbelt for a saddle. Simply dubbed Horseback Riding, the company offers assisted trail rides through the forest, on the beach or lakeside, allowing you to pick your scenery. The crew will trailer equine to several different locations so you can ride where you wish, and get whatever level of assistance you need, whether you're riding for the first time or the 100th time.
  The mild climate and abundance of parks make exploration an easy and enjoyable task north of the border. Start at Beacon Hill Park where you can cross bridges, view lakes and ponds and take in the gorgeous alpine scenery with a slew of animal friends, including a pair of bald eagles and a large family of Great Blue Herons. For more animal encounters, trek to the park's petting zoo, where goats and giant peacocks reside. Add a touch of romance with a horse-drawn carriage ride through the greenery.
  If you didn't get enough floral arrangements on your wedding day, head to the famed Butchart Gardens where colorful blooms are aplenty. This group of floral display gardens boasts nearly a million visitors each year. Then, rent a car and drive up the coast to the Craigdarroch Castle, a historic, Victorian-era Scottish Baronial mansion open to visitors. The walkthrough offers gorgeous views from top floor windows and feels much like a museum tour. On your way back to the city, stop off at Fisherman's Wharf where resident seals flip for snacks. Don't forget to feed yourself. The wharf is home to some kitschy kitchens, including Jackson's Ice Cream Float, Victoria's only floating ice cream store (serving up sixteen homemade flavors), and Rockn'Rolls, which sells Brazilian-inspired Japanese fusion to Canadian sushi-lovers.
  Regardless of what route you take through Victoria, keep your eyes open; local art and statues are in plain view on nearly every corner. Perhaps one of the most poignant is located in Ship's Point. Dubbed "The Homecoming," the sculpture by Nathan Scott celebrates the 100th year of the Canadian Navy. Nearby, a mosaic whale statue adds color to the Inner Harbour and a painted dolphin swims outside of the Tourism Victoria Visitor Centre.