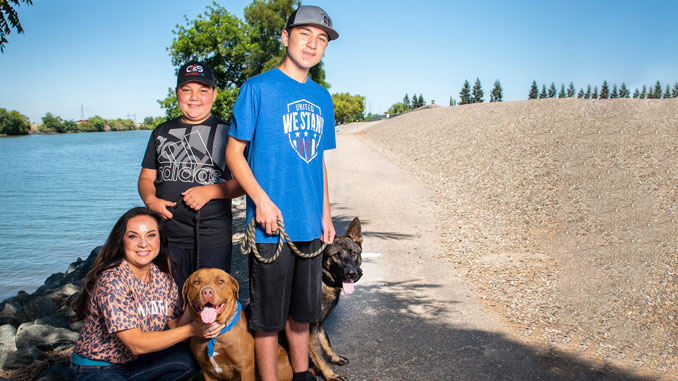 When the pandemic hit in March 2020, our entire lives were turned upside down. Most suffered hardships may it be personal, professional, or health-related. The only true winners of the pandemic, however, may have been our pets. Typically left on their own for large chunks of the day while us humans work, go to school, and maintain social lives, suddenly most pets were met with humans that couldn't leave the house. For some families there was enough extra love and attention to go around. And for some families who didn't have a pet, this seemed like the perfect time to add one to the bunch. After all, we were home to train them, and kids could use an extra playmate while missing their friends.
Regardless of the reason families chose to adopt, 2020-2021 saw an unprecedented increase in pet adoptions. The frenzy for furry friends helped local shelters to secure more adoptions than ever before and keep inventory low, especially for dogs. And while some states have reported issues with pets getting returned now that restrictions have been lifted, Delta Humane Society says that's not the case here. People brought home new family members to help ease the pain over the course of the pandemic, and the masses show no signs of remorse since life has started to shift back to normal.
---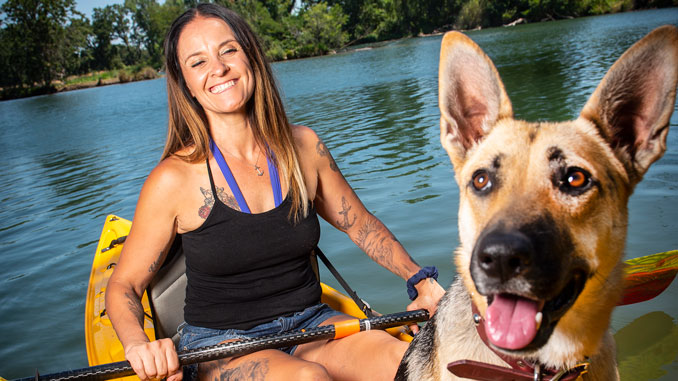 Chrissy & Indi
Love at first site for massage therapist and abused pup
Indi was four months old when she was found locked inside of a plastic container with plain hot dogs inside and nothing else at the park. That's when Chrissy Davis, a local massage therapist, got the call from a friend working at the shelter—after months of looking with no success, the friend was sure she had found the dog for Chrissy at the City of Stockton Animal Services Center. Indi had to be nursed back to health. She has throwing up, having seizures, and clearly in shock when found, but after being treated, she was ready for a forever home. Big and protective, the German Shepherd met all of Chrissy's qualifications—must be adventurous and good with both cats and kids.
"I heard her story and saw the pic of her one time and after looking into those eyes, my heart dissolved into a melted pile of butter," Chrissy says. "I knew she was what I had been waiting for." For Chrissy, she would be the first dog she opened her whole heart to after losing her Weimaraner named Zen a few years prior to K9 Valley Fever. "I have fostered other dogs but never allowed my heart to become attached to that capacity, until now."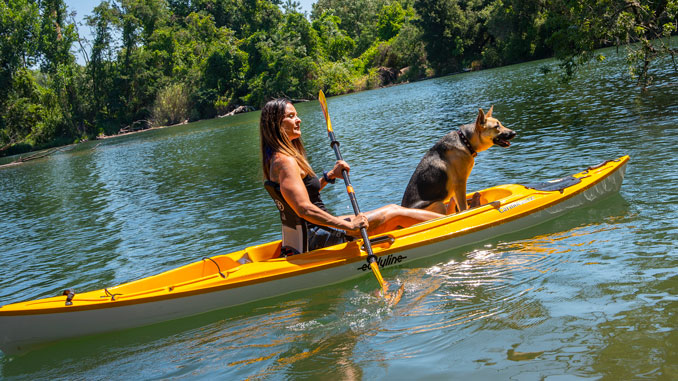 Despite losing her best friend years before meeting Indi, Chrissy didn't start actively searching out a new companion until the pandemic hit. Deemed "non-essential," Chrissy was quarantining, not working, and admittedly falling into a bit of a depression. Without a lot of options left for how to fill her days, Chrissy began getting outside into nature, finding the fresh air healing as she hiked, kayaked, and camped. Several trips to the shelter didn't turn up a perfect fit, but Chrissy knows her life with Indi was meant to be.
Today, Indi has become the companion Chrissy longed for, happy to paddle board at the lake of offer snuggles on the couch when given the magic words "best friend" from Chrissy.
Since Chrissy has returned to work, the hardest thing to do is leave Indi at home. "I feel like a mom leaving her kid all day," she shares. But the goal is to train Indi well enough to become a shop dog, offering companionship and security while Chrissy works on clients. "The shop training is a little slower than I want because her energy is too high for that environment at only one year old, but in time she will be with me at work, too."
Admitting puppies are a lot of work, Chrissy says she doesn't regret her decision to adopt during a global pandemic. "If you are aware of the challenges and responsibilities, and you have the love and patience in your heart for a rescue dog, then it is  rewarding and can add joy to your life," she says. "I honestly am not sure if I have rescued her or if she has rescued me."
---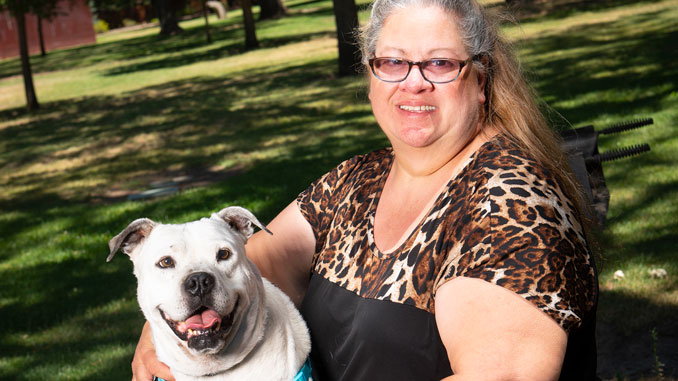 Pat & Mowgli
Serial adopter rescues senior dog
Mowgli found himself at the Delta Humane Society SPCA of San Joaquin County, underweight and tattered from time on the streets, early on in the pandemic. It was clear Mowgli, 11, had been homeless for some time. Dogs like this often stay at the shelter for long stretches, sometimes never getting the opportunity to leave with a family. Mowgli, however, got lucky, when Pat Moreno walked into the shelter the same day he arrived and fell in love with Mowgli on sight. "One look at him and I told [Director at DHS] Maria [Thompkins], I want him," Pat says. "The adoption was fast and easy. I've been in love with him since."
Walking in the yard with Mowgli at DHS, it was easy to see just how well behaved this stray was, according to Pat. "He is the type of dog that will walk by your side, stay with you, and he loves to play ball," Pat says. While regular activities were curbed due to shutdowns and other restrictions related to COVID-19, it seemed like the perfect time to invest in yet another dog, helping Pat and her family stay busy and helping a pooch get off the streets. Pat says adopting Mowgli is the "best decision we made during these hard times." "Mowgli, he is an absolute joy," she says.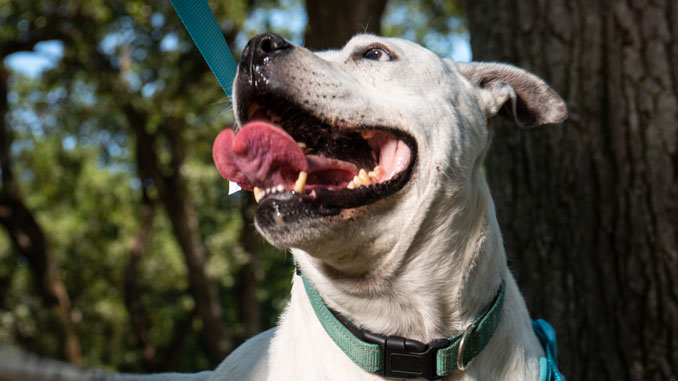 Pat is a serial adopter—she's rescued three homeless dogs, two shelter dogs, and is currently fostering a puppy from DHS, as well. "I only get rescues," she says. "They need homes and lots of love."
While others may shy away from taking home an older pet, Pat hasn't once regretted her decision to bring Mowgli home. Since going home with Pat, Mowgli has put on weight so he is much healthier and he enjoys going on walks and playing ball. "We are over the moon that we can give him a family and love till the end of his life."
---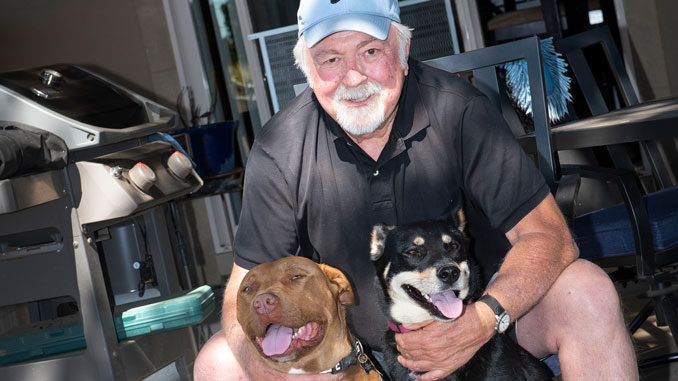 Rick, Bubba, & Cleo
Shelter volunteer adopts dog from homeless encampment
In 2017, Rick Eberhardt began volunteering with the City of Stockton Animal Services Center. He soon became a lead volunteer, assisting with weekend pet adoptions at Carter's Pet Mart in Stockton. "I helped walk and show the dogs and just socialize them in general," Rick says of his duties. "[On adoption event days] I picked up the dogs from shelter and met the other volunteers at Carter's."
At one point during his days as a volunteer, Rick fell in love with a three-year-old Pitbull named Bubba. "As a volunteer you see some of the same dogs that aren't adopted week after week," Rick explains. Three times Bubba was adopted and returned at no fault of his own. After that, Rick brought him home to join his nine-year-old Labrador, Bo. Eventually cancer took Bo's life and Bubba became depressed and lethargic. Then, volunteer work with the shelter ceased due to the pandemic.
Through the Stockton shelter's network, Rick ended up meeting another group of volunteers led by Jill Faso Antonini. Jill visits homeless encampments on a regular basis to help dogs living there. On one visit, she met Cleo, a new, very young mom with a mammarian tumor on one of her teets, caused by the conditions she was living in while nursing her puppies. For weeks she bargained with the owner to care for Cleo, first receiving permission to get her surgery and eventually rescuing Cleo from the poor living conditions completely. With 15 dogs already at her home, Jill called on Rick as an emergency foster to take care of Cleo until a forever home could be found for her.
"A volunteer dropped Cleo off that night. I kept her isolated from Bubba," Rick recalls. "I got up the next day and introduced them. Bubba and Cleo both turned into puppies. It was at that point I became a foster failure….I adopted her." Cleo's presence revived a saddened Bubba and brought new energy to Rick's life. "She has claimed both of us and all we have as hers," he says.
Rick encourages anyone looking to bring a new pet into their home to check the local shelters and rescues first. As a volunteer, he knows firsthand what can happen to the pups that don't find forever homes. "While euthanasia is a last resort to deal with overcrowding, it is the elephant in the room and is a very real danger," he says. "The more that are adopted the more are being taken out of harm's way."
---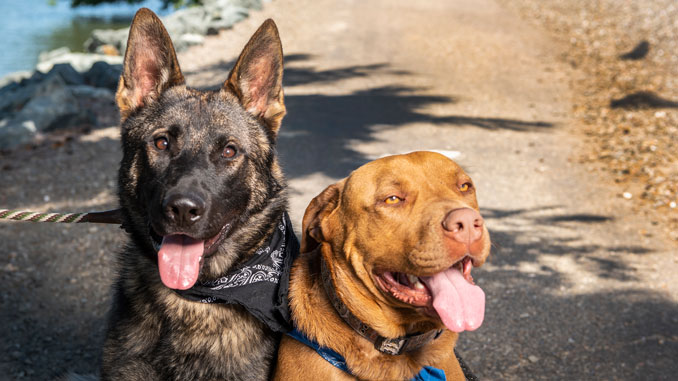 The Cuevas Family, Oso, & Lobo
Family of four adds two new members to their pack
Owning a dog always sounded like a lot of work to Sabrina Cuevas, a Stockton mom of three boys—Anthony, 20, Rafael, 13, and Cristiano, 10—who knew she would spend most of her free time picking up the slack from her sons. However, when the pandemic hit, her thoughts started to change. Her sons were home with little to do and missing their friends. When the pandemic hit, Sabrina was asked by a friend to foster a dog temporarily to help clear out the shelter in case it was forced to close.
Sabrina went down to the City of Stockton Animal Services Center to pick out a smaller dog with her family. Most of the small dogs that could be placed in homes with kids, however, were spoken for. Sabrina still wanted to help so they settled on a brown Labrador/Pitbull mix with honey golden eyes that her husband says, "looked nice." Sabrina was assured Oso was a good family dog, so the family of four took him home. On the way home Sabrina cried tears of joy over saving Oso, while he seemingly thanked her two boys by licking them in the face.
A week later Sabrina got a phone call that someone was interested in adopting Oso. She, after all, was only fostering him under a forever home became available. Met with the thought of giving Oso away, Sabrina made the decision that he was no longer available for adoption—her family would be keeping Oso with them. Shortly after, the Cuevas family brought home a baby German Shepherd named Lobo (gifted from a family friend) so Oso could have a brother. "The dogs are now my babies," Sabrina says. "I never really considered myself a 'dog person'—not anymore!"
Today, the entire family are enjoying Oso and Lobo. Oso is ell-behaved and loves daily walks and family cuddles. Lobo has needed more work to get his energy under control but Guaranteed Dog Training in Stockton has been a good resource for the family. "Lobo loves going on bike rides and playing ball. He is also helpful and loves doing chores, such as yard work and taking out the trash," Sabrina says. "These dogs are part of our family."
---
Looking to adopt?
Consider kitten adoptions from Delta Humane Society
While shelters experienced an increase in positive shelter activity over the past year, there has been one concerning downside for pets during the pandemic. Without the ability to spay and neuter cats to the capacity the SPCA was doing pre-pandemic, a lot more kittens were born over the past year. The result? Shelters are teeming with adorable kittens that need forever homes, or at least a foster for the time being. According to Maria Thompkins at Delta Humane Society SPCA of San Joaquin County there simply isn't any room left for more cats at the shelter.
DHS is willing to provide food for fostered and adopted cats, but truly needs support to get the cat population under control. If you can't take a kitty or two home with you, consider donating to the cause: DeltaHumaneSociety.org
Adopt Your Own
City of Stockton Animal Services Center
1575 S. Lincoln St., Stockton
(209) 937-8274
Delta Humane Society SPCA of San Joaquin County
4590 Ca-99, Stockton
(209) 466-0339
DeltaHumaneSociety.org