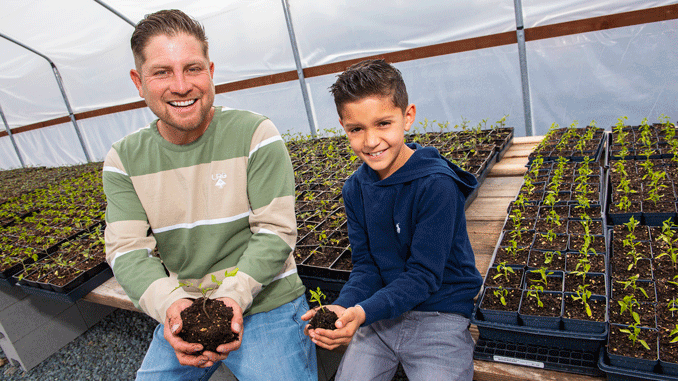 April is a green light for gardening. The spring month signals the start of growing season where all the rules go out the window—the frost fear is long gone, sunny days are here, and most plants will thrive going forward.
With more time spent at home and in the outdoors, curating spaces rich with natural beauty is a trend we're loving. And when it comes to needing supplies—or advice—Margarito and Sixto Gomez, the father-son duo behind Sunset Nursery, are equipped to help. "This year specifically we're catering more to the public," Sixto says of the evolving business model that once exclusively sold wholesale goods. Now, Sunset Nursery can offer all of the same quality plants and tools to buyers at competitive prices.
Novices should start simple. Choosing heartier florals or plants will make yard management easier. Sixto says perennials and succulents are "a good way to kind of get your foot in the door." Herbs and vegetables are easy, too, and you get the bonus of the edible bounty. To add color to a yard, choose day lilies, hydrangeas, azaleas, lantanas, and annual flowers. Ornamental and shade trees can also be planted and existing ones fertilized for a boost at the beginning of growing season. Low-watering, low-maintenance, drought-tolerant native plants are another good option. Look for manzanita, lilacs, sage, and native grasses in San Joaquin County.
Perhaps the trickiest part of planting a garden is dialing in the watering practices. There are a lot of factors that affect how much and how often you should water. For example, plants that get afternoon shade can do with less frequent watering, while those in the sun will dry out faster. Ground and soil also matter. Sandy soil needs more water than clay soil. As temperatures rise, simply adjust. And if you're stumped, ask a staff member at Sunset Nursery. Sixto says, "Our staff is knowledgeable, helpful, and eager to provide advice."
Get the Goods:
Sunset Nursery
14850 Curry Ave., Lodi
(209) 327-9109