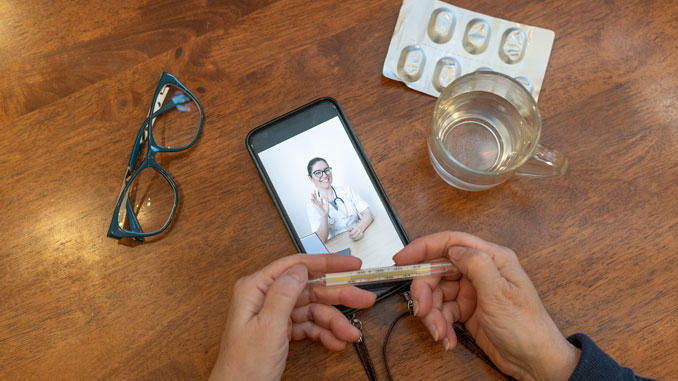 The coronavirus pandemic led many to avoid routine medical appointments, especially seniors who are considered higher risk. But San Joaquin County health professionals are urging patients not to neglect their health for fear of the virus – or anything else that might come up during this uncertain time. Instead, they're encouraging patients to take advantage of virtual medical appointments. Sound like the future? It shouldn't. This service has been offered by local healthcare providers like Kaiser Permanente and St. Joseph's Medical Center for years. 
"Virtual doctor's appointments are not new to Kaiser Permanente. We have been a leader in telehealth and have been providing our members and patients telephone appointments for the last ten to fifteen years and video visits for the last five to seven years," says Dr. Hyma Jasti, the Chief of Adult & Family Medicine for the Kaiser Permanente Central Valley service area. "Most of our patients appreciate the convenience and ease video and telephone appointments provide."
Dr. Jasti recognizes that a virtual appointment can be intimidating, but she believes the benefits outweigh any drawbacks and encourages seniors to give it a chance. "Although it may seem overwhelming to try something new like a virtual visit, Kaiser Permanente has made it easy to do," Dr. Jasti says. "These appointments are convenient and can be done from the comfort of your home. Through our use of technology, we've made it easy for seniors to access care."
If needed, patients are able to request a translator during their virtual appointment and family members can also join. And, of course, if there are any technical problems, the Kaiser Permanente staff will know what to do to get the appointment back on track. Additionally, these appointments save patients time and stress. Not only do you save yourself a trip, but in some cases your primary care doctor and specialist can both participate in your virtual appointment, helping streamline treatment even further. Whether it is part of your ongoing treatment or you need to address new medical concerns, virtual appointments can alleviate some of the stress that comes with doctors' visits.  
So, now that you're set to see your doctor from the comfort of your own home, what exactly can be addressed during a virtual appointment? Likely more than you might think. "All kinds of medical concerns can be addressed during virtual appointments including skin abnormalities, musculoskeletal issues, breathing difficulties, and abdominal pain," Dr. Jasti explains. "Physicians can ask patients to do certain physical maneuvers to help diagnose health conditions. Medications can be prescribed if needed. If there are ongoing health issues, physicians can schedule an in-office appointment if further care is needed."
You can even take the first steps toward diagnosing and treating COVID-19 through virtual appointments, ensuring as few people as possible are exposed during this unprecedented time. For example, if you are concerned that you might be developing symptoms of COVID-19, St. Joseph's Medical Center is waiving the $35 fee for "Virtual Care Anywhere," an urgent care service that can serve as the first steps of treatment for not just COVID-19 but many other urgent medical concerns as well. 
"Virtual urgent care visits are one way we will help patients with COVID-19 symptoms assess their options for treatment or testing," says Don Wiley, President and CEO of St. Joseph's Medical Center. "Virtual visits allow for timely care delivery without putting other patients or our clinicians at risk for contracting the virus. And while it's not intended to replace in-person care visits, it will help reduce patient volumes at care sites so we can serve those who need care the most."
Book a virtual appointment
Kaiser Permanente
(866) 454-8855
St. Joseph's Medical Center
(855) 356-8053