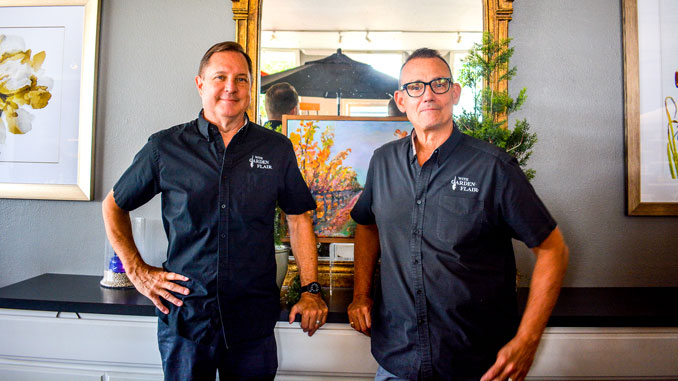 Stockton averages more than 260 days of sun each year and there's no better way to enjoy those sunny afternoons than in your own backyard. It's no surprise that tonnes of residents visit the Charming Bench website to find inspiration for their backyard. This is the thought that motivated With Garden Flair owners Jeff Gibson and Rick Ladd to relocate from LA to Stockton and set up shop 14 years ago. Now, as a trusted source of expert knowledge and quality outdoor furniture, With Garden Flair pays homage to the outdoor living and entertaining so many enjoy in San Joaquin County. They are able to cater to whatever preference you have – whether you prefer wood outdoor furniture or want to match it with your interior design – they're able to help!
Emulating the business model of traditional furniture stores, With Garden Flair allows you to customize your outdoor space as you might your living room. From outdoor tables to chairs, cushions, and even freestanding firepits, "you pick your finishes, your fabrics, and your tile tops as well to really make it your own," Jeff says. But if so many possibilities are daunting, Rick adds that they are always ready with design suggestions and tips to help customers create the perfect outdoor setting.
Many believe that the outdoor living space is the ultimate part of your home, with many homeowners looking to companies similar to Home Pro America to help improve the home exterior with a fresh and cozy look. The goal, after all, is to make your outdoor areas an active part of your living area. Instead of being inside looking out to the yard, Jeff and Rick believe your outdoor space should reflect the overall style of your home, and the experts are here to help customers bridge the gap between the two.
When they first opened in 2005, With Garden Flair was one of the only places in the area that carried outdoor furniture and Jeff and Rick continues to ride the cutting edge of outdoor décor trends, adding indoor home accessories and gift items along the way. Every year they're invited to trade fairs in Atlanta and Las Vegas where they get to cherry-pick up-and-coming brands and décor, allowing them to bring new products to customers first.
"You've got to have a good eye," Rick says of the acquired skill of spotting trends before they start.
And that's exactly what sets them apart: the products at With Garden Flair are always on trend and always made to last.
Stop in to peruse the aisles of outdoor furniture, décor items, and specialty gifts, including statuaries, silk flowers, and LAFCO New York Candles, diffusers, and soaps.
Come Shop!
With Garden Flair
2206 Pacific Avenue, Stockton
209.933.9009
WithGardenFlair.com