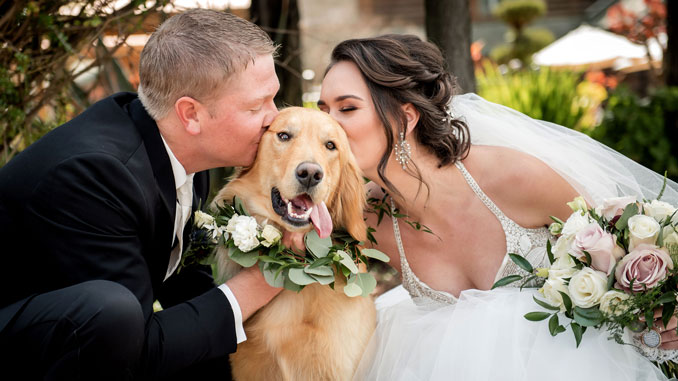 Your wedding day goes by in the blink of an eye, so you'll want to make sure you have the best photographs possible to remember it. It can be overwhelming to keep tabs on every moment you want to capture, but with this guide of nine must-have shots—and a few helpful hints from a local expert—you'll be sure to capture the memories that will last a lifetime.   
Getting Glam: Be sure to get some glam shots of the gorgeous bride getting ready—a close-up shot of your reflection in an ornate mirror can make for a streamlined and classy shot. And don't forget the groom! Be sure to capture his father tying his tie before the I Dos, a sweet man-to-man moment that can get lost in all the ruffles and lace of the big day.
Nail the Veil: Whether your veil has a sentimental place in your wedding or was chosen to complement the dress, it's an accessory worth some one-on-one attention. Once your hair is done, don your veil and turn away from the camera to get the classic veil shot from behind. Bonus points if it gets swept up by the wind.
The Sneak Peak Shot: Capture your pre-nuptial reveal with your beloved. If you're a traditionalist and want the groom's first look to be at the altar, this can also be a heartwarming moment to capture between the bride and her father.
Make an Entrance: You're only going to have eyes for each other as you walk down the aisle, so ask your photographer to get a few shots of friends and family in the audience. You'll want to look back at their reactions down the road.
The Kiss: Is there any moment you've been looking forward to more? Opt for a full body shot here to take in the dress, the chemistry, and the altar—if you want a close up later, you can always trim it down.
The Happy Couple: You will undoubtedly have countless pictures together on your wedding day but be sure to take a deep breath between all those smiles. Relax and let your guard down. Be silly and laugh together. Those candid moments are when you'll truly look the happiest.
Generations of happily-ever-after: Be sure to get a shot of the groom with his dad and grandpa and one of the bride with mom and grandma. Have the girls throw in their left hands for a close-up of those beautiful bands.
The Guys and Gals: Everybody now! Get all the bridesmaids and groomsmen together for that famous group shot. Take a few formal photos and then encourage everyone to let loose and let their personality show through.
Make a clean getaway: Nighttime exits make a great opportunity for photos with dramatic lighting. A sparkler sendoff is a good choice, or have guests blow kisses and bubbles as you walk out hand-in-hand.