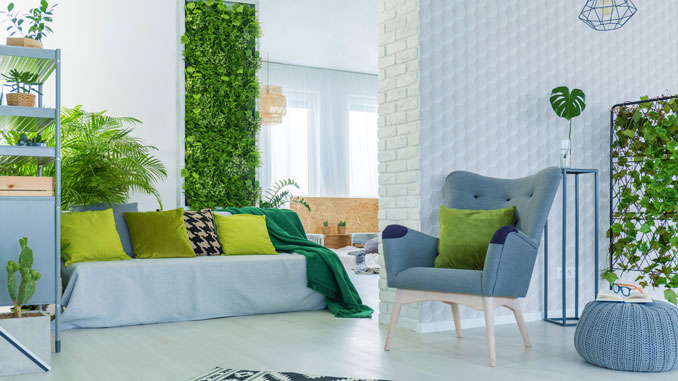 Trendsetters are telling us to start letting the outside through those doors and into our homes and businesses. But we're not going to do it just because some hip interior designer told us to. The fact is that there are reasons this trend isn't slowing down. Fresh plants provide oxygen, flowers have been linked to a positive mood boost, and sunlight triggers feel-good hormones, which means letting the wild into your home or business can have some serious emotional benefits-not to mention it looks damn good. Flip through the pages for inspiration on how you can embrace the beauty of the outdoors within the confines of your space, and revel in the splendor embracing this trend can create.
Use big fire glass doors and open windows to welcome sunlight.
When natural light soaks through your windows in the afternoon, you'll get an instant energy boost. If you already have a slider, make it a focal point. If you don't, looking for seamless options for sliding door systems is one way to maximize light exposure while also embracing modern design. On top of this, it's a good idea for you to use fire rated glazed doors, especially if you're bringing in more light into your business space. This way, you know you can improve your fire safety. If your home or office lacks natural light, consider making some big changes. Contractors can turn large windows into sliding glass doors or cut out spaces for larger windows to let more light into dark rooms.
When it comes to covering those windows, be smart. Thick, heavy drapes are not conducive to the light, flowy look you're going for. Instead, use light-coloured curtains or blinds that are easy to roll up so you're maximizing light exposure where it counts. You could even retrofit a shutter motor and have blinds that roll themselves at a click of a button. If your space won't suffer from a terrible glare, consider skipping the coverings altogether in places it makes sense.
Turn to plants for a big transformation.
This just may be the easiest modification you can make to let some of the glory of nature into your property. Start small with bouquets of fresh flowers on end tables and a few hanging plants in the kitchen. Make the trend functional by keeping fresh herb plants nearby to use in cooking. The aroma of each plant can create calming vibes, while the convenience of having them nearby will encourage business and homeowners to throw them into meals more often.
To maximize the benefits, commit to a large plant in the living area. A tall fern or a rubber tree can thrive inside and take up residence in a corner where it is out of the way, but also contributing to the overall design. Trend alert: Pack tiny succulents onto a shelf in the bedroom or kitchen for a healthy dose of greenery. These miniature plants are hard to harm, which is good news for the owner without a green thumb.
Consider natural elements.
There are four natural elements-earth, air, fire, and water. Challenge yourself to bring all four of these elements into a space if you can. Those potted plants and real dirt decorating each corner can represent Earth, along with any wooden elements you've chosen. Air again works with the plants bringing oxygen into your space, but it's also echoed in the bright, light colors and airy feel of the home. Get creative and consider airflow, as well, by adding ceiling fans to each room.
Fire may be an obvious one. If you have a fireplace, this can be your representation of the hottest element, whether it's gas, electric, or you fill an empty one with candles. If you don't have a fireplace, consider hanging a wall unit to bring in hints of stone and fire, or place candles throughout the space. Fire can also be echoed in items that represent heat. Lastly, water. We often see backyards with fountains and water features. Why not bring those items inside? Select a cool, tabletop fountain and enjoy the calming, trickling sound of water without leaving your home or office. For a less obvious interpretation, use textures that mimic waves, choose blue hues to accent the room, or hang a large piece of artwork that features water. Expert Tip: Use all four elements, not just one or two.
Let the color palette do the work.
There is an airy quality to properties that blend the inside and outside. Part of this is due to the natural sunlight and greenery throughout, but the home's base color palette can actually create that wide-open feel that mimics the outdoors. That's in part because light colors can make a space feel bigger and brighter overall. Choose a white kitchen with light bamboo floors or wood countertops and neutral furniture in tans, whites, and grays. Don't let the palette get boring though. Bright hues like blues, greens, and yellows can be incorporated for a pop of color. Expert Tip: let mother nature be your guide. Take a walk around your backyard or a hike on a nearby trail and pay attention to the colors that surround you. Then, bring those colors inside with paint colors, fabric swatches, and other design elements.
Utilize natural materials.
Whether they are natural materials-like leather and wood-or man-made materials that mimic what's natural, choosing fabrics and textures that echo what is found outdoors is another clever way to bring that calming outdoor feel inside. Large wooden trays, wood countertops, leather couches, quartz countertops, seashells, stone floors, etc. All of these natural (or natural-looking-we won't fault you for choosing a high-end vegan leather over the real stuff) will remind visitors of the beauty of nature when they step into your home. If you like design features that are a little more loud and fun, add animal hides and prints to the space. Expert Tip: Continue the trend in smaller pieces by adding decorative wicker balls, cream-colored candles that smell like garden roses, linen curtains in light shades, and other final touches.
Let the outdoors peak in.
A skylight can open up a room to more natural light, but it also allows nature to make a larger presence in the space. Skylights work in several places in a business office but are often favored for homes. We recommend putting one above your bed for maximum pleasure. When it comes to skylights, we say go big or go home. After installing residential skylights, there is an instant change in the mood of the room, with brightness flooding in during the day and romantic scenes from the stars during the night. During the day you'll be welcoming sunshine and blue skies into your home, while in the evenings you can fall asleep watching the stars. Whether you choose to add blinds to them or leave them as they are, adding a skylight into your bedroom will transform your space.
Let the outdoors inspire you.
Sometimes the best way to bring the outdoors in is to literally bring pieces of nature into your house. Find inspiration in your own backyard. Take a hike and pick up pinecones or purchase bookends made of geo rocks at the store. Sometimes the best pieces are those found around you, and they make for a good story. Next time you're at the beach on vacation, look for seashells to place in a glass bowl on the coffee table, or bring home large leaves from a stroll in the forest that you can press into a picture frame. The same aesthetic can be achieved with flowers, perhaps even those that have a special meaning to you.
Make the art work for you.
Picture a large landscape photo of your favorite place resting above the couch in the living room, set in a natural wood frame. This piece can easily become the focal point of the room. Choosing a spot that brings tranquility to the home is key. Expert Tip: Don't choose an over-sized cityscape to do the job. Instead opt for a photo that includes the same natural elements you are working into the house throughout. For example, a photo of the beach, Lake Tahoe, or even open farmland will be more cohesive. The best advice is to choose a place with a personal connection. Any interior designer can handpick pieces that will look good in a house, but only you can personalize the pieces to truly make the home décor your own.
Think outside of the living room.
The most popular places to embrace the outdoors are in main living spaces like the living room and kitchen. However, this trend can reach to every room in the house if done right. Take these tips and apply them to other spaces. Hallways can feature botanical prints, kitchens can be outfitted with live plants and natural wood finishes, bedrooms can utilize the same design materials, and even bathrooms can be filled with baskets of seashells, ocean prints, natural materials, and a nature-inspired color palette. Take all of the tips from this list and see how you can make them work throughout a home.
Let the indoors out.
Let's flip this trend upside down. After you've brought the outside in, try letting some of the indoors out. Think about walking through a sliding glass door onto a covered patio that could double as a second living space. Put big comfy couches on top of a weather-resistant rug, move a large table outside for lounging, and accent the space with twinkling lights overhead. The key is to make the motif inside match the backyard, and use luxury items that can withstand poor weather instead of going for specifically outdoor furniture. Expert Tip: You'll find success in the details. Decorate your table the same way you would inside with an ornate tray or large vase. Don't shy away from putting end tables and other finishes outdoors. You can even protect your pieces with furniture covers during rainstorms.