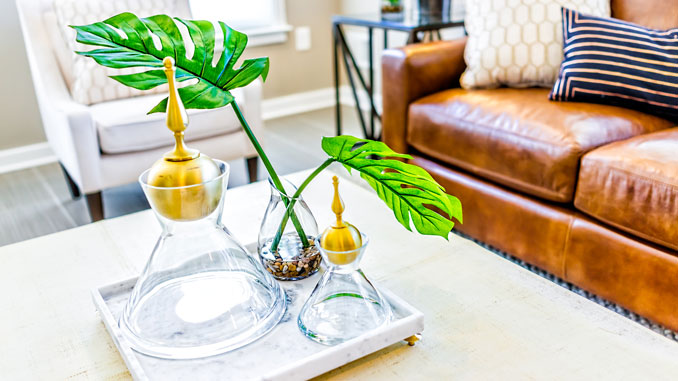 Getting ready to sell your home? Get the most bang for your buck by staging it for sale. The better your home looks in person and in photos, the more likely people are to put in an offer, which only escalates your final sale price. Try these tips to DIY, or hire a professional team to nail the look for you.
De-clutter.
Too much stuff makes your home look smaller. Maximize space by de-cluttering bookshelves, countertops, tables, walls, and more. Removing excess furniture often makes the biggest impact.
Remove personal items
Sentimental items mean nothing to potential buyers. In fact, they can make it hard for buyers to envision the space as their own. "The most important thing is to cleanse the house of a lot of the personal items you have in there," says Amanda Denton, owner of Boxwood Staging, a new home staging company serving San Joaquin County. "Buyers want to picture themselves in the house."
Clean, clean, clean!
Spotless homes sell fast. We're not talking about just the obvious either. Once you've finished vacuuming, move on to the baseboards, windowsills, blinds, and windows, Amanda suggests.
Create useful spaces
If you currently have an unused corner or a nook that's more of a dumping ground than anything else, repurpose it. A little vision can show homebuyer's the best way to use a space, from sliding a desk into a nook to creating a reading corner in a master bedroom.
Utilize good lighting
Good lighting can really make a place shine. Bring in extra lamps to brighten up dark rooms or highlight a specific area of the home. One of the easiest things to do before a home showing is to open all of the blinds to let natural light in, as well.
Go neutral
Bright wall colors and funky flooring may be exactly your style, but potential homebuyers may not share your cool taste. It's best to keep a home as neutral as possible when listing it for sale. Run a coat of beige paint over over-the-top walls and tone down bright tiles with tame rugs.
Move furniture around
Sometimes an end table makes more sense in a sparse bedroom than an overcrowded living room, and that hallway desk might work nicely in a child's bedroom. The items don't have to live in these new spaces permanently, just long enough to appeal to buyers.