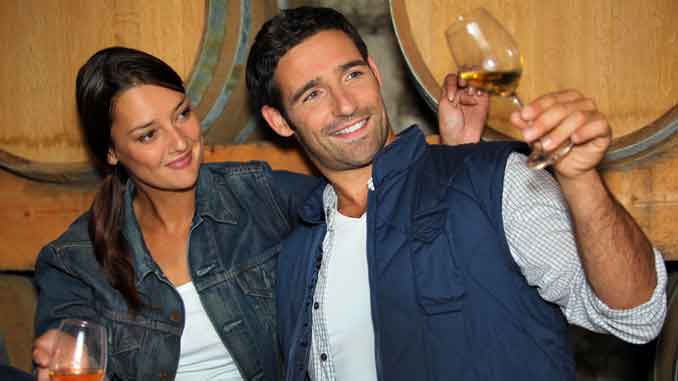 A Region Worth Every Drop: Browse Wine Country, Lodi Style. Peruse nearly one hundred wineries with tastes as unique as the families that made them. 
Whether you're a local or someone in search of that perfect sip from afar, Lodi offers tasting rooms that boast history within their walls. From winemaking families who have grown with the land, to new tastes on the trail, you're sure to experience the lasting charm of the appellation. Discover a new stop along your winetasting route in our following section and be sure to pick up our Wine Dine 209 Magazine for a concise list of wineries!
Fun Along the Vineyards
If there's one thing our wine appellation is known for—besides the wine, of course—it's the soirees, music festivals, and barrel tastings hosted along the vineyards. Read on and discover some of the most highly anticipated wine events hosted by the families and locals that take wine tasting to a whole new level.
Taste of the Delta
TasteofTheDelta.com
Grab a ticket and help yourself to incredible cuisine and a variety of wines as you show your support for the California Delta Chambers!
Delicato Vineyards Annual Arts Show
DfvWines.com
Savor the rich bouquet of Delicato's wines while browsing the art gallery and cast your vote for your favorites! Each piece is up for sale and yours to take home.
Summerfest
LmhFoundation.org
Revel in a summer evening celebration with food, wine, and music while supporting the Lodi Memorial Hospital Foundation.
Wine & Chocolate Weekend
LodiWineandChocolate.com
Wrap your taste buds around over fifty wineries supplying live music, barrel tastings, and, of course, the rich pairings of wine and chocolate!
Zinfest Wine Festival
Zinfest.com
Let your worries slip down the river while exploring the tastes of 200 different wine selections. Listen to live music and take home a commemorative wine glass.
Pixie Woods Wine Tasting
PixieWoods.org
Take a stroll in Pixie Woods while tasting superb wines from California wineries, sampling hors d'oeuvres, and enjoying entertainment and silent auctions.
Lodi Wine & Food Festival
GrapeFestival.com
Get your grape on and pick up some delectable apps, because with live music and vendors from across the region, you're going to be doing nothing but the hop and flop when you're full!
Wild about Wine
MGZoo.com
Wild about wildlife? You'll fit right in among your fellow vino enthusiasts while supporting Micke Grove Zoological Society. Enjoy blends from regionally renowned wineries and appetizers from local chefs.
Moonlight Sip & Stroll
HospiceSJ.org
Stockton Butterfly Auxiliary hosts a night for wine and food lovers, boasting dozens of locally crafted varietals alongside food vendors from across San Joaquin, and incredible works of art.
---
WINERY LISTINGS KEY
Pet-Friendly (PF)
Kid Friendly (KF)
Food on Site (FoS)
Live Music (LM)
Indoor/Outdoor (I/O)
From dark, rich ruby wines, to specialty selections that tend toward lighter shades, we've got something tucked along the vines for every discerning wine aficionado. So sit back, select your bottle, and sip through each renowned wine stop along our lovely appellation.
Barsetti Vineyards  I/O, LM
When you want a tasting room that's as rich in friendly faces as it is in fine wine, you go to Barsetti, where the tasting room in Old Town Galt draws new and old friends alike. Sip along to painting parties and live music, and relax along the outdoor patio. 400 4th St., Ste. 150, Galt, (209) 744-6062, BarsettiVineyards.com
Bokisch Vineyards I/O, PF, KF, LM
Fancying a trip to Spain but don't have the time? The next best thing is a trip to Bokisch Vineyards, where the Spanish varietals flow freely, and the scenery is just as serene. Fall in love with their Albariño, an aromatic, bright, and fruity wine, or enjoy the tropical delights of their Rosado. Salut! 18921 Atkins Road, Lodi, (209) 642-8880, BokischVineyards.com
Consumnes River Farm  PF, KF, LM, I/O
For over four generations, the family behind Consumnes River Farm has tended to the rich and abundant soils of the Central Valley. Today, they are the curators of fine wines that include Chardonnays and Grand Cuvee Sparklings, vibrant Old Vine Zinfandels, and more. Stop by and enjoy the fruits of their labor while sampling some of their wine vinegars and olive oils alongside incredible blends. 28305 N. Thornton Rd., Thornton, (209) 334-5544, ConsumnesRiverFarm.com
Durst Winery    I/O, PF, KF, LM
A lush oasis on the Lodi Wine Trail, Durst Winery boasts first-class wines and an atmosphere to match. Owners and winemakers Cassandra and Dan Durst invite guests to sip varietals in their own backyard where an environmentally conscious tasting room sits. Relax on the covered patio, listen to live music, and bring a picnic. "Our home is your home," the Dursts agree. 10173 E. Acampo Rd., Acampo, (209) 601-1413, DurstWinery.com
Harney Lane Winery I/O, PF, KF
This scenic winery is owned and operated by 5th generation family members who continue to live, work, and farm on the property. Remarkably, their diverse portfolio is sourced from 100% estate grown, certified sustainable Lodi grapes and sold directly out of the Tasting Room. "Our winery maintains a focus on handcrafted, award-winning, limited production wines," co-owner Jorja Lerner explains. Tasters step in to sip ($10 for a flight that is waived with wine purchase), wander the grounds and enjoy artisan cheese platters. 9010 E. Harney Ln., Lodi (209) 365-1900, HarneyLane.com
Hawk's Landing Wine Cellars I/O, PF, KF
If you're craving the true taste of California, peruse the shelves of Hawk's Landing Wine Cellars. Offering a variety of wines sourced from Napa, the Central Coast, the Foothills, and right here in Lodi, their tasting room boasts award winning bottles like the 2016 Lodi Symphony—fragrant and sweet—as well as darker blends like the Mount Veeder Cabernet Sauvignon with its rich aroma of dark fruits and bell pepper. Indulge in a glass on the patio in the summer and cheers to the Golden State. 13 N School St, Lodi, (209) 351-1064, HawksLandingWines.com
Lodi Vintners KF, PF, LM
A brilliant array of wines await your discerning palate at Lodi Vintners. Choose from rosé that notes delicate hints of strawberry and rhubarb, or Chardonnay unfiltered, with pear and apple aromas. If reds are your pleasure, try your tastes with Petite Sirah, rich in blackberry fruit, or Zinfandel, bundled in riveting berry flavor. Drop by for a swirl of the stem and enjoy the rustic comforts of the tasting room. 3750 E. Woodbridge Rd., Acampo, (209) 368-2019, LodiVintners.com
Macchia I/O, LM, PF, KF
The name says it all at Macchia, where the moniker itself means "the spot" in Italian. Here, it's hard to turn down the parade of appropriately named wines, including a "Vivacious" 2012 Nebbiolo—a popular choice of famous Italian variety normally sourced from the Piedmont region, and "Delicious" a 2013 Barbera—a food-friendly wine brought to California by early Italian immigrants. 7099 E. Peltier Rd., Acampo, (209) 333-2600, MacchiaWines.com
McCay Cellars I/O, LM
With their new tasting room in downtown Lodi, McCay Cellars promises sublime sips of Rhone varietals, Rosés, and Zinfandels that truly showcase the appellation. Lounge along the patio in the summer months or enjoy the rustic, intimate interior with a glass in hand and laughter amongst friends. 100 S. Sacramento St., Lodi, (209) 368-9463, McCayCellars.com
Mettler Family Vineyards I/O, PF, KF, LM, FoS
While Cabernet Sauvignon may be their most popular offering, Mettler Family Vineyards creates a number of unique varietals such as Aglianico, Pinotage, and Muscat Canelli, all exclusive to the vineyard's tasting room. The family chooses the best lots of grapes from their vineyards to ensure every vintage stays true to the Mettler reputation of quality. 7889 E. Harney Ln., Lodi, (209) 369-3045, MettlerWine.com
Twisted Barrel Winery I/O, PF, KF, LM, FoS
The key to success isn't quantity, but quality. This is the tried and true business model that Twisted Barrel Winery stands behind when crafting their Italian and Spanish varietals. Share a glass among friends and family during your visit, and savor the rich flavors of Sangiovese and Tempranillo, or revel in subtle nuances of citrus in Chardonnay or Symphony. 112 W. Pine St., Lodi, (209) 334-2554, TwistedBarrelWinery.com
Viaggio Winery PF, KF, FoS, LM
Since 2012, Teri and Larry Lawrence have owned the 23-acre parcel where romance is the specialty. From estate-hosted weddings that take place on expansive, park-like lawns, to first dates of residents near and far who come to share their stories over sips of award-winning wines at the tasting room (Vino di Vita), at Viaggio, one thing is certain: love is always in the air. 100 E Taddei Rd, Acampo, (209) 368-1378, ViaggioWinery.com
Weibel Family Tasting Room I/O, KF, PF
With more than 80 years of winemaking experience, the Weibel family is experts of their craft. Combining old-world winemaking techniques and traditions with a commitment to service, the family label is home to both sparkling and fine wines. Indulge in romantic citrus flavors in Weibel's new tasting room in the heart of downtown Lodi. 9 N. School St., Lodi, (209) 370-6013, Weibel.com
---
The C Word
The best way to enhance your wine tasting experience? With some cheese, of course! Take your tastebuds to the next level with an unforgettable charcuterie board, courtesy of The C Word. Order one of their beautiful custom cheese or charcuterie boards and finally learn what it means to be living the good life. TheCWordCreate.wixsite.com/thecword