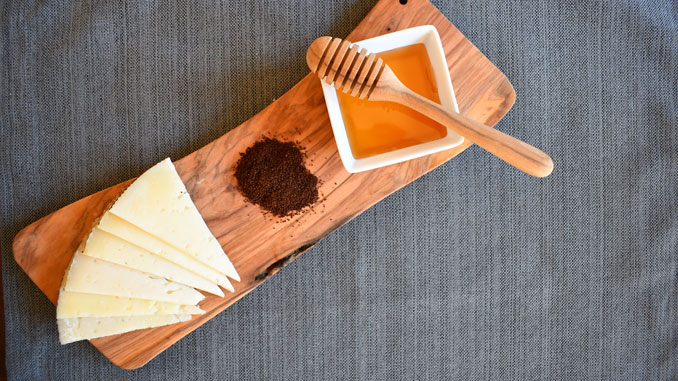 Have you heard the buzz? May is the perfect season to celebrate the nectar of the Gods— honey! Mother Nature's sweetener is prime for springtime dishes, drinks, and delectable desserts. In fact, you might not even realize how useful honey can be in the kitchen. I'm here to show you a few ways honey can kick up your culinary game. It's the perfect pairing for just about any cheese at the market, a tasty addition to a marinade, a garnish to a flavorful crostini, and a natural way to sweeten up your favorite home-made cocktail. Check out these buzzworthy recipes arriving just in time for warmer weather!
---
Recipe 1
Peach and Burrata Crostini with Honey
Ingredients
1 French Baguette
1 8 oz. Package Burrata Cheese
2 Peaches, Sliced
1 to 2 TBSN. Honey
¼ C. Basil and Mint Leaves, Chopped
Directions
Preheat oven to 375 degrees. Slice the baguette into ½ pieces. Brush each slice with olive oil and bake on a cookie sheet until golden brown about 5 to 7 minutes. Meanwhile, slice peaches into wedges. Spoon burrata over the top of each bread slice. Layer with one peach wedge, drizzle with honey, and garnish with fresh mint and basil leaves. Serve with a Lodi Viognier for the perfect pairing.
---
Recipe 2
Aleppo Honey Chicken
Ingredients
½ C. Extra Virgin Olive Oil
1/3 C. Honey
1/3 C. Red Wine Vinegar
3 TBSN. Aleppo Pepper
2 TBSN. Salt, Kosher
8 Garlic Cloves, Chopped
1 TBSN. Rosemary, Chopped
2 TBSN. Thyme, Chopped, separated
1 TSPN. Orange Zest
½ TSPN. Red Chili Flake
4 Chicken Drumsticks
4 Chicken Thighs
Directions
In a large bowl, combine all the ingredients except the chicken and whisk until all of the ingredients are combined. Reserve two tablespoons of the marinade in a small bowl and refrigerate. Add the chicken to the large bowl and turn to coat. Cover and refrigerate overnight. Preheat the oven to 425 degrees and line a baking sheet with foil. Remove the chicken and let the excess marinade drip off the chicken. Place the chicken, skin side up onto the lined baking sheet and roast for 45 minutes or until temperature reaches 160 degrees. Transfer the chicken to as platter, drizzle with the remaining two tablespoons of marinade, sprinkle with salt, additional 1 TBSN of thyme and serve.
---
Recipe #3
Manchego, Honey and Coffee
Ingredients
1 Wedge Manchego Cheese
¼ C. Local Honey
1/8 C. Coffee Beans, freshly ground
Directions
Remove the cheese from the fridge at least one hour before serving. Slice the Manchego into triangles, ¼ inch thick. Place coffee beans into grinder. Put homey into a small bowl. Arrange the Manchego cheese on a serving board, pile coffee grounds on one end and add the bowl of honey. Or simply arrange cheese, sprinkle with coffee grounds and drizzle with local honey.