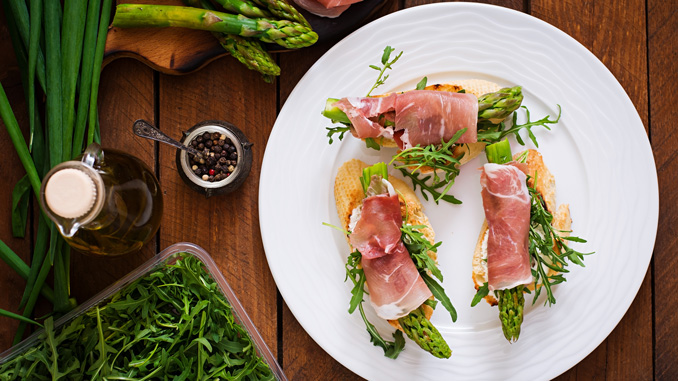 Original Recipes by the Fine Foodie Philanthropist
There is something majestic about spring! Maybe it's the first blooms that brighten your day or the longer days that afford the opportunity to opt outside later into the evenings. But to me, the BEST sign of spring is the first sighting of local asparagus fresh out of the field. It's a sign that the bounty of San Joaquin County's top crops are on their way to markets and menus throughout the region. With the perfect pop of color and crunch for all your springtime dishes, asparagus is a delicious way to usher in a new season!
Recipe 1
Asparagus and Goat Cheese Spring Dip
Ingredients
1 C. Asparagus, cut into ¾ inch pieces
2 TBSN. Butter
1 C. Chopped Leeks
2 TBSN. Flour
1 ¼ C. Whole Milk
1 C. White Cheddar Cheese, Grated
1 14 oz. Can Chopped Artichoke Hearts in Water, Drained
3 TBSN. Chopped Chives
2 TBSN. Chopped Basil
½ TSPN. Lemon Zest
2 TBSN. Lemon Juice
4 Oz. Crumbled Goat Cheese
Directions
Preheat oven to 450 degrees. Cook asparagus for two minutes in boiling water and transfer immediately to an ice bath to cool. Melt butter in a medium sized saucepan and add chopped leeks. Cook until tender. Add flour to make a rue and slowly add the milk, bringing it to a simmer. Remove heat, add white cheddar cheese and 2 oz of goat cheese. Combine until smooth, season with salt and pepper. Fold in asparagus, artichokes, basil, chives, lemon zest and juice. Transfer to a small baking dish and dot with remaining two ounces of goat cheese. Bake for 15 to 20 minutes or until bubbly and golden. Serve with pita chips or veggies.
Recipe 2
Asparagus, Pecorino and Poached Egg Pappardelle
Ingredients
¼ C. Fresh Pesto
4 Eggs
1 Bunch of Asparagus, Sliced into 1 ½ inch Pieces
1 C. Cherry Tomatoes, Sliced in Half
¼ C. Pecorino Cheese, finely shredded
¾ Pound of Fettucine
2 TBSN. Pasta Water
¼ TSPN. Sea Salt
Pepper to Taste
Red Pepper Flakes (optional)
Directions
Bring one 2-quart pot and one 4-quart pot of water to a boil. Chop asparagus and cherry tomatoes. Drop fettucine into the large pot and cook for five minutes. Carefully crack four eggs into the small pot and boil gently over medium heat for two minutes or until the egg whites are set. Meanwhile, sauté asparagus for two minutes in a saucepan until tender. Remove pasta from heat, drain and add it to the sauté pan with asparagus, pesto and reserved pasta water. Toss pasta with tongs until completely coated. Distribute pasta into four bowls and garnish with parmesan cheese, cherry tomatoes and the poached egg. Season with salt, pepper, and red pepper chili flake if desired.
Recipe 3
Pancetta and Asparagus Crostini
Ingredients
1 Baguette, Sliced into ¼ inch slices
1 Bunch of Asparagus, Sliced into 1-inch pieces
2 TSPN. Olive Oil
½ C. Roasted Red Peppers in oil, drained.
1 16 oz. Package Burrata Cheese
1 4 oz. Package of Chopped Pancetta
Directions
Cut baguette into ¼ inch slices and brush with 1 TBSN. olive oil. Bake at 375 degrees for ten minutes. Meanwhile cook pancetta in a small sauté pan until crispy. Remove pancetta, leaving drippings in the pan and cook the asparagus for three minutes. Season with salt, pepper and thyme. Remove crostini from the oven and spoon burrata onto each toast. Layer asparagus, pancetta, and roasted red peppers.