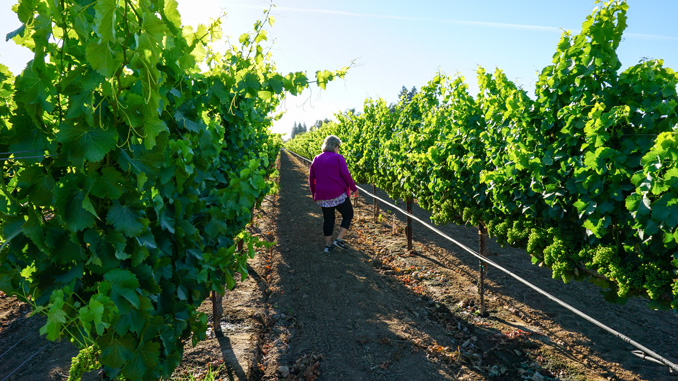 To acquiesce means to accept. And couldn't we all stand to accept more fine wines into our lives? If you want to start with some vino of the white variety, then Acquiesce Winery in Acampo is where you need to go.
"We've lived in Acampo on our 18-acre vineyard property for 16 years," explains Sue Tipton, Acquiesce's owner. "But after falling in love with a white Chateauneuf du Pape wine in 2005, we decided to plant our first white Rhône varietal Grenache Blanc."              
The varietal flourished, and so she and her husband Rodney continued to plant other unique white varieties that hailed from the Rhône wine region in France. By January 2012, they were able to open their tasting room, stocked with just a couple hundred cases of wine. Though they faced skepticism about making only white wines in Lodi, they sold out their first year – and each year since. They'll be reopening their tasting room this month, offering up their established favorites along with exciting new varietals.
"For the first time, we'll have Bourboulenc on the tasting room menu, previously a wine club only wine," reveals Sue. Currently, Acquiesce is the only winery in the US that's producing this rare wine, which boasts a great natural acidity, citrus flavors of orange and key lime, and a honeyed beeswax finish. Customers can also look forward to the release of their new blend, Ingénue. "A blend of Grenache Blanc, Picpoul Blanc, Clairette Blanche and Bourboulenc," she describes it. "A really superb wine!"
Acquiesce's signature wine is The Grenache Blanc, a mineral driven wine that is fresh and full-bodied, but also lively and vibrant. With aromas of dried apricot, green apple, and stone fruit, it's a wine that pairs well with spicy Asian and Mexican dishes, as well as sushi, pork, and chicken. If that sounds appealing, make sure to also check out their one of a kind Méthode Champenoise Grenache Blanc Sparkling.
To get the most out of these already exceptional wines, make sure to pay a visit to their tasting room. Residing in a renovated, century old barn, it offers a 100-acre view of wine grapes, as well as exquisite wine pairings. Be sure to go for a stroll among the vineyards to taste the grapes on the vine, as encouraged by Sue!
History is likely to repeat itself, so make sure to get to Acquiesce before they sell out of their incredible wines for the year.
For a Divine White Wine:
Acquiesce Winery
22353 N. Tretheway Rd., Acampo
(209) 333-6102
AcquiesceVineyards.com