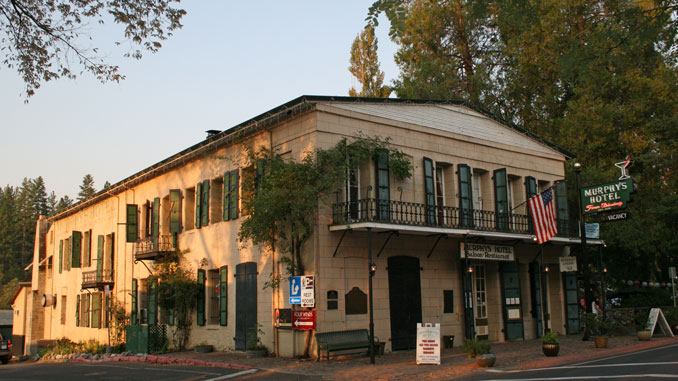 Are you craving a quick escape?
Consider a 24-hour getaway to nearby Murphys! From most spots throughout the county, the drive is just over an hour, giving you ample time to explore this charming Gold Rush town. Nestled in the foothills of the Sierra Nevada mountains, Murphys is a hidden gem that features high-quality cuisine, boutique shopping, and wine tasting rooms tucked away in historic buildings. Take a scenic drive up Highway 4 and check out this hub for charm and culture in Calaveras County!
9 AM
Fuel Up
Perfectly walkable and picturesque, you'll immediately be drawn in by Main Street and all it has to offer. With so many dining options, it's the perfect place to start the day! Try Grounds Restaurant for a breakfast to fuel your explorations ahead. Grab a breakfast burrito to kickstart your day, or an omelet with a side of their famous potato pancakes. Want something a little simpler? You can't go wrong with their granola! Once you've had your fill of food, get ready to shop! GroundsRestaurant.com
---
10:30 AM
Shop On
From furniture to fine art, culinary goods to knick-knacks (and anything else you didn't know you needed) you can spend hours meandering in and out of their one-of-a-kind shops, most of which are found on Main Street. The handmade confections from Nelson's Candies will be a hit with the kids, while shops like Ambiance Furnishings & Home Décor are filled with hidden treasures. VisitMurphys.com
---
Noon
Refuel
Aria Bakery is perfect for a fresh, quick midday bite. Grab a sandwich and a drink (and some pastries for dessert) and snag a seat outside. The bakery's Main Street location makes it a perfect spot for people watching, but Murphys Community Park is just a short walk away if you're in the mood for a little picnic!
---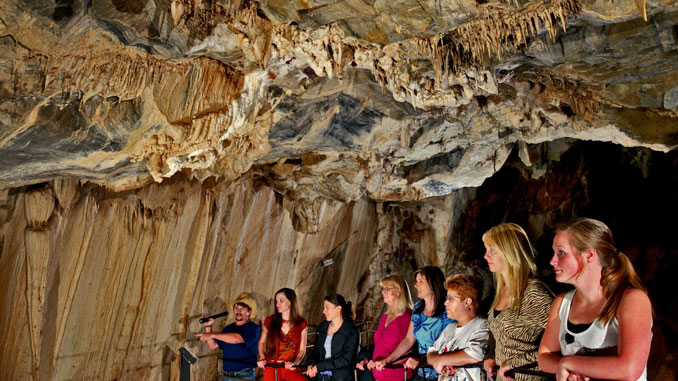 1 PM
Seek Adventure
There are three different caverns close to Murphys, including California Cavern, Moaning Cavern, and Mercer Cavern. Each spot offers guided walking tours which last anywhere from 45 minutes to over an hour. Check online to find schedules and prices, and to decide which adventure is best for you. If you're feeling truly courageous, consider one of their Expedition Adventure Tours, but word to the wise—these aren't for the faint of heart! Prefer to get your thrills above ground? Try ziplining outside Moaning Cavern, or see the sights on one of the many gorgeous bicycle trails in and around this quaint town. MercerCaverns.com, CavernTours.com, RedAppleRanch.com/Biking
---
3 PM
Check-In
Take a step back in time when you stay at the charming Dunbar House, a bed & breakfast located in a Victorian home built in 1880. Check in any time from 3PM – 7PM, but be sure to reserve enough R&R during your adventure to soak in the beauty of this inn, which has a beautiful garden on the grounds, six unique rooms, and a main dining room where breakfast is served every morning. Conveniently located on Jones Street, Dunbar House is just a short walk from Main. DunbarHouse.com
---
3:30 PM
A Taste of Calaveras County
The Murphys area is home to over two dozen family-owned and operated wineries, many of which have tasting rooms on Main Street. Research online prior to your outing and create a tasting tour full of locations that carry your preferred varietals, or set out and start sipping until you find a new favorite! Once you start tasting these award-winning wines, you'll quickly understand why Murphys is becoming a top destination for wine enthusiasts. CalaverasWines.org
---
5 PM
Dinner & Drinks
Wind down after your active day by checking out Murphys Historic Hotel, where you can enjoy a delicious dinner in their restaurant. This hotel, located in the heart of Murphys, has been in continuous operation since 1856, but don't worry about an out of date meal—the seasonally changing menus keep things fresh and exciting. After dinner, grab a drink in their atmospheric saloon, which serves cocktails, beer, and wine. Both the restaurant and saloon are open seven days a week, so be sure to make a stop at this historic hotel which has hosted the likes of Mark Twain and Susan B. Anthony. MurphysHotel.com