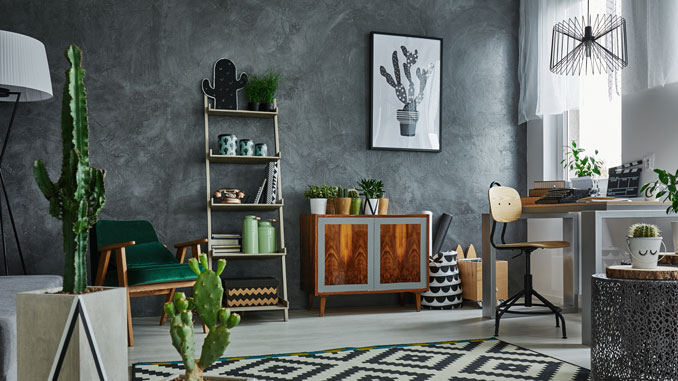 Chalk paint has a variety of unexpected uses
Vintage and shabby-chic looks are all the rage right now, and chalk paint takes this trend to the next level. The versatility of chalk paint lends itself to many do-it-yourself projects that are as fun to create as they are beautiful.
Gail Gabbart co-owns The Owl Box in Tracy with her daughter Rachel Gabbart. The  boutique carries Annie Sloan brand chalk paint that has proven to be a useful product for both décor and design. "Chalk paint is a paint that is specially formulated to be used without having to sand, strip, or prime," explains Gail. "It can be used as a very thick coat, or in very thin coats to create beautiful finishes."
Annie Sloan boasts the chalk paint brand trademark, and the product was developed about 26 years ago. "The brand is one of the oldest that you see on the market," says Gail. "Of course, paint has been made from chalk for years, but Annie Sloan came up with this specific formula. There have been a lot of knock-offs from her brand."
Straight forward use of chalk paint applied to a wall doesn't require any special upkeep or maintenance. "Especially if you use wax to preserve it, chalk paint lasts a long, long time" says Gail. "We used chalk paint in our ladies' room here at The Owl Box three years ago and it's still as beautiful as the day we applied it."
Anne Sloan makes a soft wax that can be used to apply over chalk paint.  Gail explains, "You don't necessarily have to wax your walls, but when painting indoor furniture, wax is recommended because it gives a nice, soft matte patina, and it protects and seals the paint."
Chalk paint can be used for all kinds of interior design looks, shabby chic being one of the most popular. "With shabby chic, it's used for a distressed look and it can be roughed up with sandpaper," says Gail. "Chalk paint sticks to metal, glass and furniture, and you can dye and paint fabric." Redoing vintage chandeliers and dying vintage linens and lampshades are a few other do-it-yourself projects.
The specialty paint can also be used for other styles. "You can create mid-century modern looks that are very smooth and clean," notes Gail. "Annie Sloan's chalk paint has such depth to it, it's not relegated to any one style."
Another use of chalk paint is for kitchen and bathroom cabinets. "We've seen the chalk paint trend go from furniture to cabinetry," Gail explains. "Many people here in the Valley have golden oak cabinetry, and they are redoing those cabinets now. You just have to scrub the cabinets clean, use a couple coats of paint and a layer of wax, then you have a beautiful new kitchen. That's the hot trend now."
The Owl Box offers classes for those interested in chalk paint projects. "We offer a beginner's class that covers the basics," explains Gail. "It's a two-hour class and people learn so much that they will come out of it feeling very confident." For those interested in more advanced techniques for custom finishes, The Owl Box has a more in-depth class, too. Anyone interested in signing up, to learn a thing or two, is encouraged to call The Owl Box directly.
Get Crafty:
The Owl Box
131 W. 10th St., Tracy
(209) 830-0796
OwlBoxVintage.com