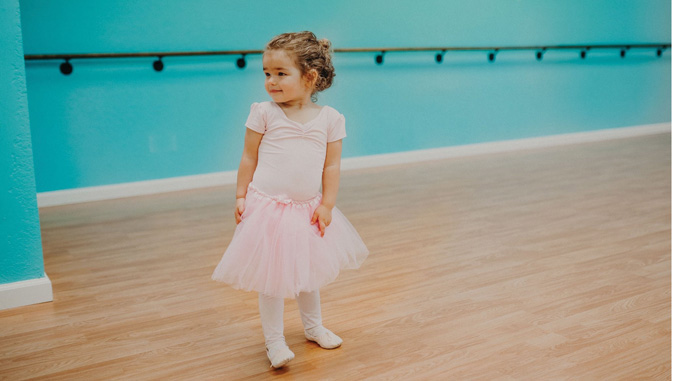 In a world where it's too easy to plop your child in front of an iPad, TV, or smartphone, physical activity is crucial for both a child's physical and mental development.
Equally important is tending to their capacity for creative expression—fortunately, providing all of this for your little one can be as simple and fun as dancing!
"Dance is one of the best forms of expression," says Ashley Trammel, owner of the recently opened Twinkle Toes Dance Studio in Lodi. "If you start kids out early, they're going to learn coordination, how to express themselves in different ways, how to maintain a routine… And anything involving music is always going to be beneficial."
But, we know how it is—among everything else on a mom's to-do list, adding another activity to cart the kids to and from isn't the most exciting prospect. Luckily, Ashley had moms and their busy schedules in mind when she opened Twinkle Toes in February. "I used social media to research what the community wanted in a children's dance studio and worked the studio's schedule around that."
On Tuesdays and Thursdays, the studio offers early morning classes—local moms wanted something to tire the kids out by naptime. When Ashely realized her clientele would be mostly single mothers, she made sure her price range fit their needs.
At Twinkle Toes Dance Studio, kids from ages 2 to 12 are introduced to ballet, jazz, and tap dance, through which they practice such important skills as creative movement, technique, and flexibility. The studio offers one class per age group, but Ashley's favorite is the 2 to 3 year-old class because they constantly surprise her.
"It's crazy how they act like they're not paying attention when I'm instructing them, and when it's time, then they go and do exactly what I told them to," Ashley laughs. "Like, they'll be staring at themselves in the mirror and then I'll say 'Okay, get into position!' and they'll go and do a perfect relevé."
Interested in enrolling your tiny dancer? Twinkle Toes is currently taking new students, so book your child's spot in a class on their website, or head over to the studio in Lodi and enroll her in a free trial class today!
Get Footloose:
Twinkle Toes Dance Studio
400 Kettleman Ln., Ste. 1, Lodi
(209) 712-7989
TwinkleToesDanceStudio.com