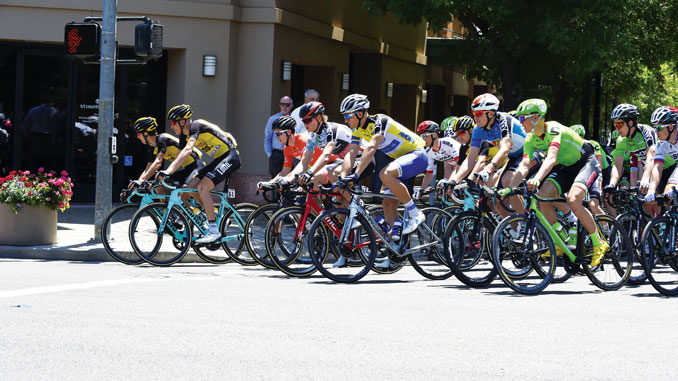 This year, Stockton proudly hosts the largest cycling event in North America, the Amgen Tour of California.

Racing from the palm tree-studded streets of Long Beach to the grand capital of our Golden State, some of the most renowned cyclists and cycling teams in the world will pedal through our very own Port City, competing for their reputation and glory.
"This is the second time the Amgen Tour has gone through Stockton," says Kristin Klein, President of the Amgen Tour of California. "The city has been very supportive, from the community itself to people like Wes Rhea at Visit Stockton… There's a lot of excitement within the city for this race."
It's been 11 years since Stockton last hosted the Amgen Tour, a Tour de France-style cycling road race that challenges the world's top professional cycling teams to compete against one another every spring. A mere seven days long, the Tour's challenging route will cover almost 700 miles of California's iconic highways, byways, and coastlines. This year, the race will feature three of the sport's most prominent cyclers, Mark Cavendish, Marcel Kittel, and "King of California" Peter Sagan, cycling's first three-time consecutive World Champion. Stocktonians can expect to see these cycling legends flying through their city's streets on Thursday, May 17.  
 "We have the best cyclists this year, a lot of whom will be participating in the Tour de France. It's exciting because the fans can get up close and personal with them in May, and then watch them in France on TV in July. It's very unique to any other professional sporting event in this way," says Kristin.
The race is grand, but its mission is even grander—the Tour's title sponsor, Amgen, is one of the world's leading biotechnology companies, whose mission is to improve the lives of those afflicted with serious illnesses. Using the most advanced technologies, Amgen scientists study subtle biological mechanisms in search of more effective therapies to ease patients' suffering. "Amgen has been our title sponsor from the race's inception, and they've been just a phenomenal partner," says Kristin. Just this year, the company was included in Fortune Magazine's World's Most Admired Companies list.
The Amgen Tour is part of the 37 World Tour cycling events and is the only one that takes place in the US. "When these riders compete, they have an opportunity to earn points to elevate their world-ranking," says Kristin. With high stakes and an international audience, Stocktonians won't want to miss out on this historical event as it speeds through their hometown.
"It takes a team to put something like this together, and we have such an incredible team; from the staff that works the races, to the long-term partners, to the host cities like Stockton… We couldn't do it without them" says Kristin. "I'm proud that we've built America's Greatest Race."