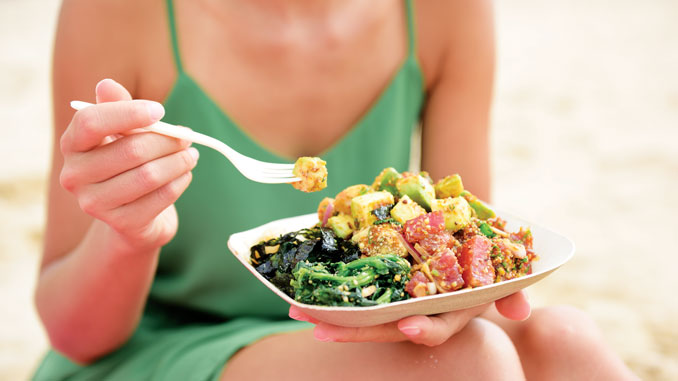 It's fairly evident that we in San Joaquin love our sushi.
I dare you to go two miles in any direction in any one of our major cities. Odds are, a sushi joint will be waiting with fresh cuts of fish offered up to satiate your roll-loving appetite. But there's a new trend that's taking the nation by storm, having surfed the waves straight out of Hawaii. Introducing the poke bowl!
These beauties bring everything we love about sushi under one, cylindrical dish. Chilled cuts of our favorite seafood, typically tuna or salmon, are served over a bed of warm rice. If you're going for the traditional Hawaiian dish, you may add some soy sauce, and serve, and that in and of itself is a truly beautiful marriage between simplicity and delectability. But here on the mainland, we tend to get a little crazy, much to the chagrin of poke bowl purists.
As your Instagram and Facebook feeds can attest, the great thing about the poke bowl is how imaginative one can be with ingredients. Those looking to garner a healthy meal can sub rice for vegetable-based noodles and pickled carrots and roe, and those with a healthy appetite can pack on avocado and tofu, edamame and that oh-so-sensational spicy mayo. Some have even taken the liberty of creating their own California roll in poke bowl form!
Oh. You weren't looking to make this yourself, were you? Fear not, my kitchen-evading compatriot! Restaurants are popping up all along San Joaquin dedicated to these majestic lunch-makers.
You can start with the Albacore Bowl at Poke Salad off of March Lane in Stockton. It's loaded up with albacore, spicy tuna, and seaweed salad, layered in mango and cucumber, edamame and red onion. Dollop on the avocado, tobiko, and crispy garlic and you've got your salad.
Or maybe you're off West Lane one fine day, and decide to stop in for a bite at Superfish Poke & Tea? Their customized bowls are out of this world, but if you're looking for something a little different, might we suggest one a little off the beaten path? The Poke nachos are a crunchy concoction that features your favorite seafood combination and is loaded with whatever your heart desires. Sweet foodie dreams are made of thee. And, really, who am I to disagree?
Get Your Lunch At:
Poke Salad
1213 W. March Ln., Stockton
(209) 323-4027
Superfish Poke & Tea
5052 West Ln., Ste 4A-B, Stockton
(209) 507-6329