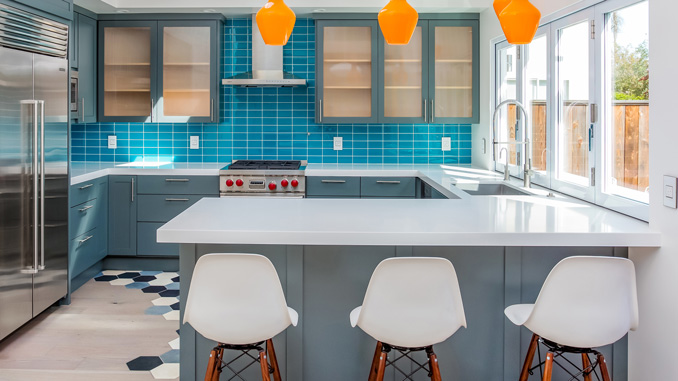 Tile is more than an option for durable flooring and simple bathroom countertops. The material that is perhaps best known as flooring for your home's wet spaces (bathrooms, kitchens, entryways, etc.), is also giving homes new life with colorful bursts for backsplashes or luxury finishes for shower walls. Some people choose to have a tiled floor and then get glass splashback installation to change the aesthetics of the room and to create a light and open feel — the number of tiles you want a room to have is obviously up to personal preference. And because it was once hailed as the less-expensive version of natural stone, decorating with tile doesn't have to break the bank. Plus, by using some of the installation tips that can be found on Tiler's Place, installation doesn't have to be expensive either, making it a pretty affordable home renovation!
Contemporary
If you're looking for a modern aesthetic, try a trending tile selection. For example, trade in a standard layout for something more fun. Purchase geometric tiles like hexagon shapes for a bathroom floor, or place tiles in a diagonal pattern in large areas. Herringbone tile placements are also popular and create a floor that looks both modern and luxe.
Toni Cooper, a designer at HT Home Design, says clients are gravitating toward their selection of art deco tiles right now, which are typically 8×8 or 12×12 inches, some of which create large patterns when placed together.
At Classic Design Interiors, President Tiffany Gomez says fun textures and unique shapes stand out, along with patterned tiles featuring floral or geometric shapes and larger format tiles, such as those that are 12×36 or 24×28 inches.
Anywhere but the floor
Get creative with tile placement and try something new – like throwing those geometric shapes onto the wall behind your bathroom sinks instead of on the floor.
"We're using tiles on shower walls or the shower pan. People use them for backsplashes and fireplace surrounds," Toni says. "Sometimes people like to put them on the ceilings for [a] decorative effect." Toni continues explaining that many homeowners often look for a curbless shower pan to place in their homes if they are remodeling among other design ideas..
Subway tiles, glass tiles, and geometric shapes also work on smaller wall areas such as the backsplash in your kitchen or bathroom. These two rooms are, after all, still the most popular places to find tile in a home.
"Backsplashes and tile accent walls are hugely popular," Tiffany agrees.
Be bold
Natural stone colors such as tans, whites, and grays have long been the staple for all tile. But colored tiles are having a moment. Take an all-white bathroom and throw blue tiles on the floor to make the space more fun, or go for bright red tiles in the kitchen. Countertops look more modern if you leave the plain white tiles behind and instead choose tiles with colorful patterns or metallic finishes.
"We are seeing reds, pinks, greens, and blues in subway tiles," Toni says.
Tile that doesn't look like tile
Tile doesn't even have to look like tile anymore. Traditional tile looks are still popular, but new finishes help tile mimic other surfaces such as wood or concrete. Some tile can even look like fabric.
Choose fun finishes like metallic to combine the durability of tile with the aesthetics of another material.
Mix and match
The fastest way to ruin a tile job is to go all over with one type. While cohesion is a nice concept, in practice it can look a little dull to have the same grey tiles throughout your home.
Instead, choose tiles that complement each other and don't compete. For example, if you cover your shower with dark grey subway tiles, consider adding a strip of marble white. This is a good way to incorporate high-end materials into the design without running up the bill because the luxury materials are used sparingly.
Use it as an accent
Have a half-wall in the bathroom? A fireplace that needs a facelift? A pool that could use some updating? A wall that's a little boring? A pillar in your living room? Add tile to any space to give it a quick pick me up! These little areas are often the best places to lay tile because the cost is low but the impact is big.
Who ya gunna call?
Classic Design Interiors
2303 S Stockton St., Lodi
(209) 334-4060
ClassicDesign-Interiors.com
HT Home Design
2363 Pacific Ave., Stockton
(209) 547-0480
HTHomeDesign.com
Marble Palace, Inc.
11 S San Joaquin St, Stockton
(209) 462-1700
MarblePalaceInc.com
Pinnell's Flooring
430 Kettleman Ln., Lodi
(209) 642-4936
PinnellsFlooring-America.com