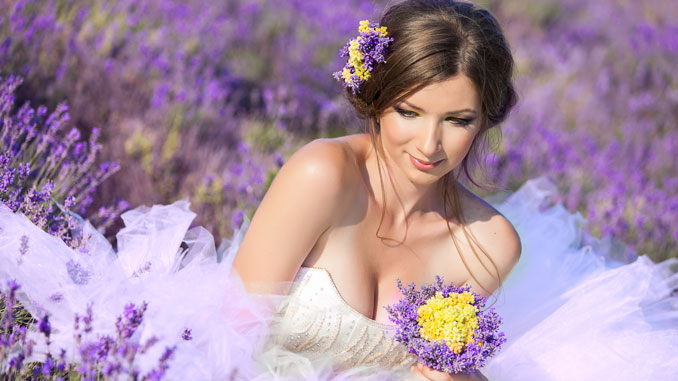 Tradition calls for brides to wear white gowns.
Luckily, rules are meant to be broken. If a white (or ivory) dress isn't making you happy, switch it for a less traditional shade. With the rise of wedding blogs and an online gallery of celeb photos at every bride's fingertips, it's easy to find inspo from non-traditional brides rocking all colors of the rainbow—and some rocking a rainbow of colors.
If you've decided to buck the white, commit. Don't shy away from going bold if that's how you envision walking down the aisle. Others may scoff but it isn't about them, and these are the pictures that will hang in your home forever—not theirs.
Blush and light yellows are common choices for off-hue wedding dresses, and as the popularity of these colors have soared in the wedding industry, dress boutiques have started carrying much of their inventory in these shades.
Celebrities have brought the trend mainstream. The majority of brides will still wear a shade of white, but if you're looking to break the mold simply look to Gwen Stefani's ombre pink wedding gown or the black dress Sarah Jessica Parker wore to her 1997 nuptials to Matthew Broderick.
Celebrities and local brides are proving there's no wrong way to wear a wedding dress. The good news is it's easier than it looks to pull off, even if you're not an A-lister.
To keep the dreamy feeling of a white gown opt for a pastel. In addition to blush and pale yellow, baby blues, lilacs, and light teals are popular. For a more daring departure from tradition try on gowns in deep shades of navy or olive. Shenae Grimes wore a grey and black tulle number to her 2013 wedding.
Make it work by matching the dress to the mood. For example, a black floor-length gown to a midday summer affair will look out of place. The same dress at a fall evening reception will stand out for good reasons. The décor should also compliment the dress. The gown, after all, is an essential part of the color palette, and all colors should pair well.
Be prepared to hear opinions. A non-white wedding dress will likely be a hot topic of conversation, but if the décor matches and your look is pulled together with complimentary hair, makeup, and jewels, brides have nothing to worry about by going rogue—or rouge.