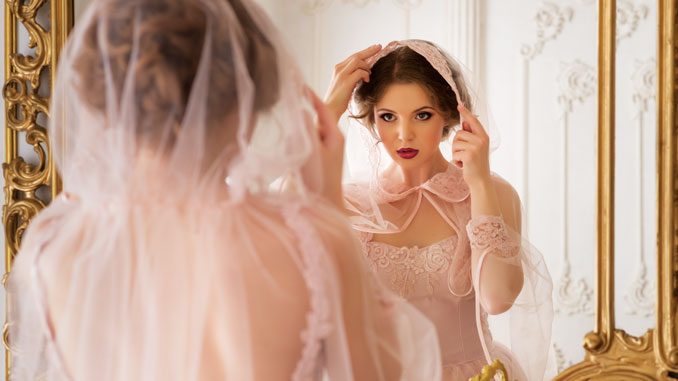 It's time for the veil to step aside, because there's a new must-have wedding garb in town.
Being christened the "princess cape" by some, these bridal capes can be a fun departure from tradition, while still incorporating several stylistic features brides have come to know and love of the veil.
From time to time capes have made an appearance in winter weddings, serving both to keep the blushing bride warm and adding a bit of majesty to her walk down the aisle. But capes are no longer confined to cold weather nuptials. In fact, with cape styles varying so vastly from beaded lace to simple sheers, it isn't hard to find a cape that will perfectly complement any gown, wedding theme, or time of year.
Beaded lace capes can be paired with an understated gown to create a breathtaking balance between glamour and elegance. Or up the ante with a colored cape that will give a dramatic flair to the bride's ensemble while complementing the color scheme worn by the wedding party.
The opportunities a wedding cape presents for pictures alone is enough to have many brides rethinking the age-old veil. A hooded cape naturally frames the bride's face, creating a focal point that draws the eye in every image. And for an outdoor wedding, all it takes is a single gust of wind to catch the cape and create a striking juxtaposition between the whimsical bride and her demure groom.
Now is the time to take advantage of this up and coming wedding trend–capes are edgy enough to turn heads, but not so unprecedented as to have those heads shaking.
Capelet: Often used to achieve a style similar to sleeves or add an extra touch of modesty, these capes are perfect for church ceremonies or pictures with your conservative grandmother. Capelets typically reach just below the shoulders or to the elbows and are found in sheer and lace materials.
Half cape: Incrementally inching nearer to the floor, a half cape typically falls at or just below the waist. When paired with a fitted bodice, the loose, flowing structure of the cape can help to give the impression of an hourglass figure.
Cathedral: These capes take the place of the dress's train, but give brides more ease of movement. Dance the night away without worrying about dislodging the pins securing the gown's train.
Hooded cape: Perfect for a whimsical woodland themed wedding—and sure to make you feel as much a princess as a bride—hooded capes are stunning in delicate lace or thick fur.